You'd think the heart of the football season would bring out the best in vintage & unique Wolverine memorabilia.   Having patrolled the auction site pretty consistently for the past couple years I can tell you the selection has been lackluster as of late.  Either that, or I've become a memorabilia elitist and desensitized to cool stuff after producing over 100 editions of eBay Watch. 
Anyway, it never fails that there's something out there worth discussion, this week it's these wire photos from the 1948 Rose Bowl against USC.   Here's a few for you, click to see more from the auction:
First up a shot from above the Rose Parade.  I love this shot because I don't recall seeing many aerial photos from the era and this one's pretty sharp.  I've been to the Rose Parade a couple times and to me, it's of course a wonderful tradition but on the morning of the big game I'd rather be a) resting after a big New Year's Eve in LA, or b) tailgating down the street outside the stadium.  One thing that cracks me up about the parade is that it effectively cuts off traffic from LA to the stadium if you don't know where to go (and no one from Michigan knows where to go):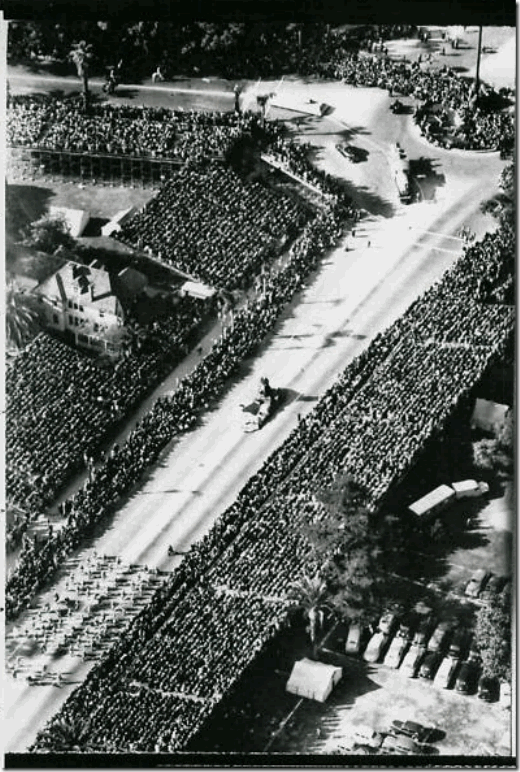 Next up, another cool shot.  It's an extra point, Michigan kicker Jim Brieske's seventh of the game, setting a Rose Bowl record.  You just don't see pics from this type of angle today.   Trojan fans should be proud that their line is still fighting down 48-0: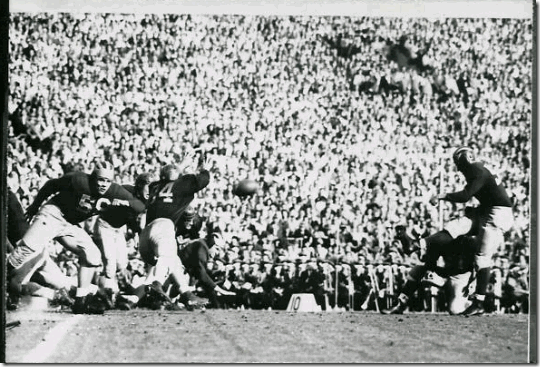 Finally, a more traditional shot of Michigan scoring one of its 7 touchdowns, this one by FB Jack Wiesenburger, once again from the field level: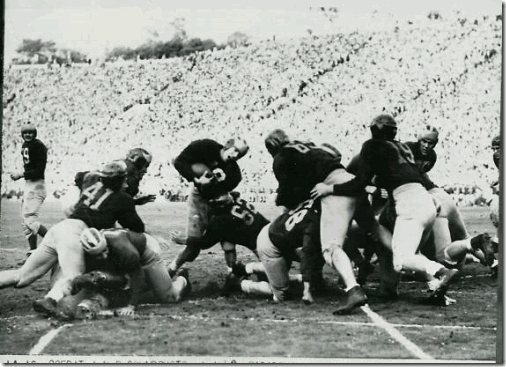 The end of that season was a controversial one, and it's something I've already covered in a previous eBay Watch.  The Bentley Library sums up what happened:
Michigan and Notre Dame had traded the top spot in the polls through much of the season. Notre Dame was No. 1 and Michigan No. 2 in the final regular season poll. In an unprecedented post-bowl games poll, the Associated Press named Michigan No. 1 on the strength of the Wolverines' decisive win over Southern California in the Rose Bowl. Notre Dame had been less dominant in its season ending win over the Trojans.
And for those that scoff at Rich Rodriguez's offense, arguing it's not a "Michigan" way to do things, watch Crisler's Mad Magicians do their thing (thanks WolverineHistorian) – it's remarkable:
The auction of the photos (they are a bundle) ends soon, and there's currently NO BIDS with a $5.99 starting price.  Go get it!
Related:
The 1948 Rose Bowl and the National Championship Debate  – From January 2008, cool history and stuff from the game.  (I wish I bought that lighter).