Continuing the string of wonderful items offered for sale on eBay, check out these authentic jersey and pants from 1952: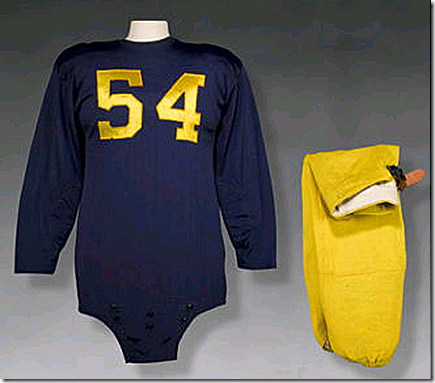 The seller claims the jersey belonged to center Wayne Melchiori came to Ann Arbor from Stambaugh, Michigan, a town just east of the Wisconsin border in the Upper Peninsula.  He went on to be a legendary high school football coach in nearby Ironwood and won quite a few honors:
He also was Tri-State football coach of the year, Michigan-Wisconsin Conference Coach of the year three times, U.P. Football coach of the year twice, U.P. Athletic Director of the year, State of Michigan Area Athletic Director of the year, and a charter member induction to the Michigan High School Football Coaches Hall of Fame and the U.P. Sports Hall of Fame.
Here's Melchiori donning the #54 jersey in the team photo from 1952: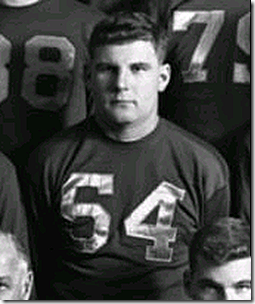 Other than the classic 1910s era jersey that sold recently, there have been a couple other vintage jerseys showing up for auction.  You might recall this beauty dating to 1931 (left – #32) belonging to Norm Daniels and earlier, another from 1930 (#28):
The 1952 slate was an up and down one for coach Bennie Oosterbaan and crew, opening with a 27-13 loss to former M assistant Biggie Munn and his #1 ranked Michigan State Spartans.  The team then dropped a game at Stanford before winning five of their final seven games.
I actually had a chance to catch up with Melchiori, who lives today up in Ironwood where he became a high school coaching legend.
Melchiori told me that longtime equipment manager Henry 'Hank' Hatch used to make the jerseys himself.  "He would pick the numbers out and sew them on, right there in the locker room," Melchiori recalled.
I asked him about any memories that stuck out from the '52 season.    "The trip to Stanford, I think we left on Tuesday.  Oosterbaan really wanted to win that game because they beat us in Ann Arbor the year before."
"We stayed at a resort up in the mountains of San Francisco and practiced on a golf course, and on Friday we moved to a fancy hotel in town downtown.  I can't remember the name of it but I can tell you it cost $16 for breakfast [laughs].  It was a beautiful hotel."
As far as the game itself, Stanford dropped the Wolverines 14-7 but Melchiori recalled the strange circumstances of one of the Cardinal's scores.
"They had the Olympic decathlete Bob Mathias on the team.  He had the ball trying to make a first down and he was stopped, but he fumbled the football on about the 30 yard line."  But it wasn't a traditional fumble.
"It was just like a guy trying a field goal.  He fumbled it then gave it a kick.  It went end-over-end and they recovered it.   It was a crazy play and I think that's illegal today [laughs]."
A quick scan of the Chicago Tribune archives backs up the account, check it out: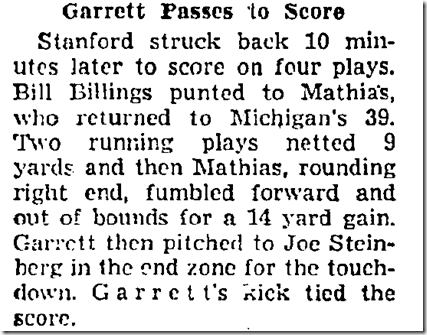 Bidding starts at $800 for the 1952 jersey and pants and the auction ends July 3.