A yule tide spin on the eBay Watch series. There are thousands of Michigan football-related items on the eBay and this time of year including all kind of items for on or for under your tree. This one is top of the heap: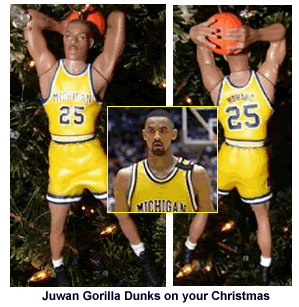 Some is selling ornament likenesses [ current auction ] of players, and I ran across this beauty of Juwan Howard in his early 90s Michigan hoops gear. From the looks of it he's about funky dunk on your tree, your ornaments, and anyone else short of Santa that tries to stop him. While overall the likeness is very accurate, I've got a couple serious issues:
1. No goatee?
2. I watched most of Howard's games in college and I'm thinking he dunked like four times in three seasons, and certainly never with two hands behind his head. He blocked shots and was a great scorer, but despite his 6′ 9″ frame he wasn't the guy bringing the house down with his dunks. That work was left to Webber, King and to some extent Jalen and Jackson.
The eBay seller says "LET ME KNOW IF THERE…IS ANOTHER PLAYER YOU WANT & I'LL TRY TO ACCOMODATE [sic] YOUR REQUEST." Where should I start? Looks like he's already got to work on a Jim Harbaugh (he must have missed the memo). How about a Justin Fargas looking pissed on the sideline? How about equipment manager Jon Falk handing over the Little Brown Jug to Gary Russell in 2005?