A short edition of eBay Watch, this installment featuring this beautiful American made Chevy 4×4 with a limited edition paint job: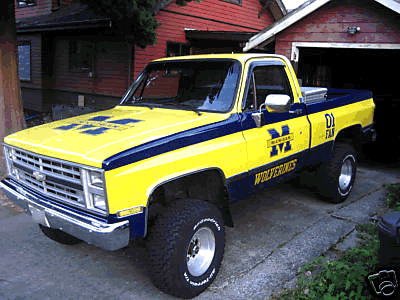 Thanks to Matthew for forwarding this link. Right now this chick magnet has no bids with a starting price of $999.99. Here's the full auction. My only beef? I would have insisted on the winged helmet design at least on the front of this sled, but I'm a romantic.
If you hurry, you can test out this beauty at one of the biggest tailgating venues on the planet, the NASCAR race down tomorrow down at Michigan International Speedway just 40 or so miles from Ann Arbor. And speaking of the Sprint Cup series, did you know that current points leader Kyle Busch is a Michigan football fan? I did; I remember the piece they ran on ESPN or somewhere showing his tour of the Big House last year.
Busch describes how it started in USA Today this week:
Although he is from Las Vegas, young Busch is a big University of Michigan football fan. U of M is about 40 minutes away from MIS in Ann Arbor, Mich. "My brother (Kurt) moved up to Michigan years ago to run in the Craftsman Truck series and he went to a Michigan game," Kyle recalled. "He bought me a Michigan sweatshirt and sent it home for me. I never really paid attention to college football until then, but I became a Michigan fan. Not too complicated of a story, but it's fun to be able to follow them when I have a Saturday afternoon off in the fall. I was lucky enough to be able to go to their practice last fall and get to know a few of the guys. You always respect people who are as competitive as you are, and they certainly have the same drive to win that I do."