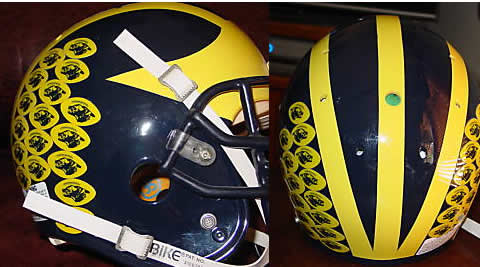 [Updated July 2010 – with new info from John Kyrk, HTTV 2010]
This installment of eBay Watch features a potentially game-used helmet from the 1980s. Helmets appear on eBay all the time, but what makes this one special is that it's riddled with decals that used to be placed on the famous helmets during the Bo era. From the auction description:
Michigan Wolverines Game Football Helmet from the 1980s. Has been reconditioned by All American, which is one of 2 companies U-M uses to refurbish their helmets (Capital Varsity is the other). Has the number 35 on the inside. Lots of Wolverine award stickers that were used until 1995, when Lloyd Carr became head football coach. This is a BIKE helmet which later became AIR helmets. Very scarce collectible from the Bo Schembechler era.
This beauty eventually sold for a cool $399.99, not too shabby.
Despite being nearly a decade and a half since the winged helmet was adorned with these appendages, the topic of the helmet stickers, decals, or "achievement awards" still comes up on occasion, here a couple years back on M Football Saturdays that argues we should bring them back, and more recently on one of the forums on mgoblog where the consensus is that they suck.
Despite some claims that Woody Hayes started the tradition in Columbus – not so – Bo actually launched the practice in the mid-1960s at Miami of Ohio.  He used little hachets.   He continued the tradition at Michigan when he joined the Wolverines.
Here's a look at Don Moorhead's "Riddell TK-2 impregnated sunflower gold colored shell" helmet compliments of umichfootball.com: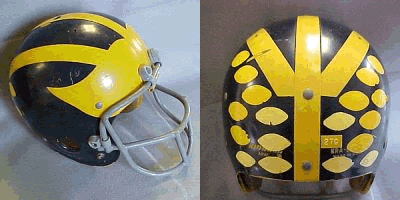 Nice pass Don, here's another lemon for you
Moeller continued the tradition but Lloyd nixed it. Why did they stop? No, I don't think it was "Just to keep a clean look" as asked by mgoblog user Casa Grande. It's also not true that Carr thought the decals were "gay",  as I've seen on a message board or two.  More likely is that Carr dropped the stickers to take the emphasis off of individual achievement and onto the team concept.
While it doesn't look like Rodriguez will restart the tradition, what do you think?
Loading ...
Related: No, I'm not going into an investigation on who originally owned this helmet. I pretty sure it wasn't Garland Rivers.
Also Related: Looks like the Buckeye Blog 'Eleven Warriors' has pimped my eBay Watch idea. It'll be a regular feature on the site. He did give proper credit and offered a kind compliment…so I'm not sure whether to punch the guy or hug him.