[Ed. With the talk of boycotting Saturday's game (or at least the kickoff), a repost.  It's not the first time there was talk on campus of boycotting a home game, although the circumstances in 1931 were quite different. Originally published in July 2011.]

I rarely feature ticket stubs on eBay Watch but this one is pretty unique.  In 1931 the Western Conference agreed to schedule a full slate of games to benefit a fund for the many Depression-era unemployed worker at the end of the season.   The league also agreed the games would count in the tight conference standings.
A full unused ticket to the game between the Wolverines and Wisconsin on November 28, 1931 went up on on eBay:


Check out the backdrop of the stub with the football player tossing a bag of loot ("A Forward Pass") to the mass of needy onlookers with arms outstretched.
It's actually not a shock that this ticket appears to be unused given the story of this one.  Charity be damned, barely 9,000 fans (some reports say only 7,000) bothered to show up for the game.  This ticket sold for $1, others went for $2.  Regular season ducats went for between $2-$3 that season.
Why the poor turnout?
Well, it seems that early in the process of determining the match-ups for the charity games, it was decided that Michigan would square off in the Big House against Northwestern.  The teams had shared the conference crown in 1930 and were near the top of the standings again.  Thinking they could raise more money by putting Northwestern in Chicago's Solider Field, a couple weeks before the date they changed course and pitted the Wildcats against Purdue. Michigan was left with Wisconsin.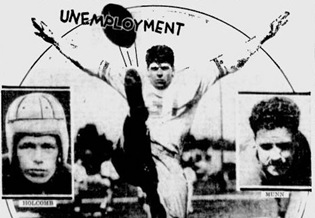 Everyone in Ann Arbor – from Fielding Yost to the editors of the Michigan Daily — went berserk.   After the Badgers were assigned, director Yost told reporters, "This whole thing has been such mess that I won't even venture a conservative guess on how many will turn out.  It won't be many."
The Daily suggested a boycott.  Students were quoted saying they "wouldn't give a nickel" or even "cross the street" to see a weak Wisconsin squad.
Ironically the biggest benefactor of the whole event, which raised $154,000, might have been Michigan.  Northwestern ended up losing to Purdue 7-0, so those who watched Michigan defeat Wisconsin 16-0 actually saw them earn a share of the league title.
The Wisconsin win propelled Michigan into the next two championship seasons when Kipke and crew won back-to-back national titles in 1932 and 1933.
Follow MVictors on Twitter