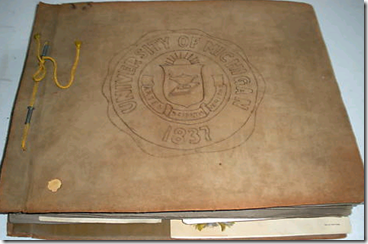 A nice piece of University of Michigan memorabilia came up for auction this week and starts off this edition of eBay Watch.  It's a photo album covering events from 1915-1919, apparently assembled by a female student or a club/sorority. 
The album includes a few sports items, 200+ photos, programs from plays, dances, and other events, personal letters and much more.  The auction shows just a few of the pages.
One page is titled 'One Sunday in June' and includes a pair described as 'Lovers' perhaps the owner of the scrapbook and her gentleman caller: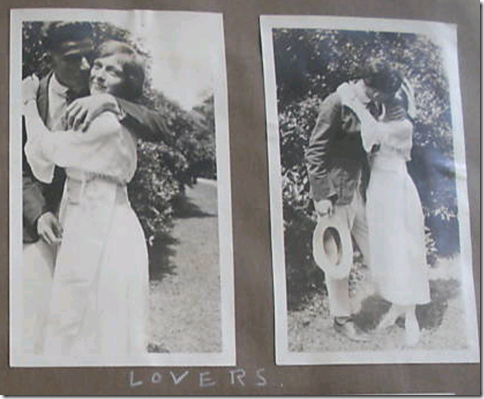 OK, enough of the sappy stuff.  Our scrapbookers clearly enjoyed all that campus provided including some activities on the gridiron.  Here's the program from the November 18, 1916  season finale against Pennsylvania, flanked by some encouraging words: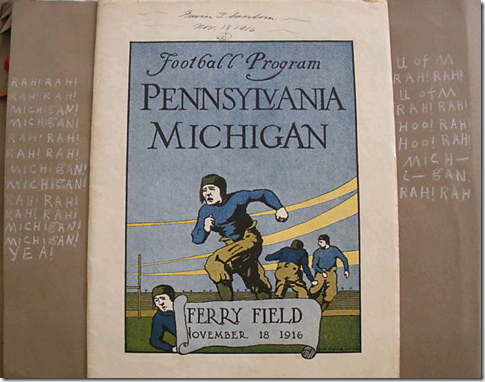 If the program design looks familiar, it was used before.  Here's the cover of the 1918 game against M.A.C. for instance.  While it is tough to tell from the photo, the seller claims that the full program is glued to the scrapbook page [me cringing].
The 1916 squad was a fine one for Coach Fielding Yost, rolling through its first seven opponents before dropping a 23-20 game on the road at Cornell on November 11th.  According to the account in the Chicago Tribune, Michigan held a 20-6 lead well into the third quarter "and seemed to be a moral cinch for the victory" before Cornell "cut loose some forward passes that turned things upside down."  Yikes. 
The following week Michigan returned home to face Pennsylvania in front of 25,584 fans.  Once again the Wolverines dropped a close one, this time 10-7 to end the season 7-2. 
Football wasn't all these ladies enjoyed.  Included was a pair of felt banners celebrating the 1919 baseball team: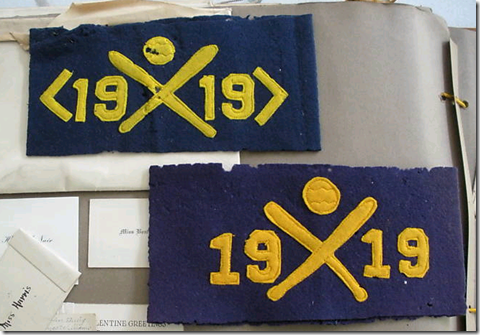 It's no wonder that these gals checked out some of the hardball.  This period was one of the finer stretches the Michigan baseball team has experienced, with Coach Carl Lundgren (who replaced Branch Rickey) leading the team 94-33-6 record from 1914-1920, including a stunning 27-2 record in the Big Ten once U-M rejoined the conference in 1918.  The 1917 spring season was canceled due to WWI.
I was curious to see how buyers would treat the scrapbook.  When the auction closed earlier this week the top bid was an impressive $481.98. 
Related:
1915 Cornell Program
Doc's not just the Nickname (1920)
Roadshow: 1837 Michigan Seal