I mentioned during the stadium tour recap that they put up some very well done photos and graphics around the renovation.   Included were a few vintage photos including an early shot or two of the original stadium.
Check out this beauty.   A quick Friday edition of eBay Watch features a postcard, circa 1927, with a cool view down the endzone aisle inside the freshly built Big House.  Most photos of the stadium are from above or from the air, but this cat went Ansel Adams on me, click to enlarge:
It's gorgeous and it's not for sale anymore.   It went for $12 and it has a good home :)
Don't forget, for more on the original stadium construction and much, much more pick up your copy of Brian Cook's epic Hail to the Victors 2010 – it's appearing around town (even at Meijer I hear!) and elsewhere now or order online. 
Elsewhere on eBay:
Hat tip to reader Steve V. for sending me this link, it's the auction of a vintage Barry Larkin game-worn Michigan baseball jersey.  Very cool: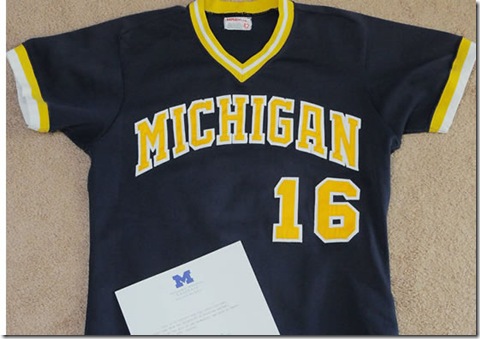 Bidding is currently at $213 and you've got 2 days left if you are reading this right now.