From a very cool auction that recently ended and it was described to be a 1928 Michigan football charm: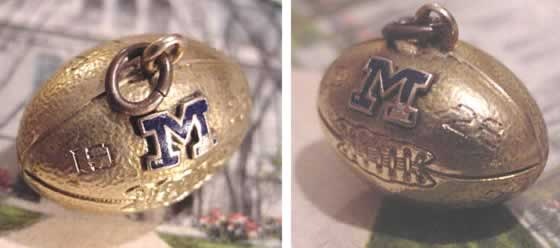 It has initials "G.J.G" on the back and the words 'UNDEFEATED':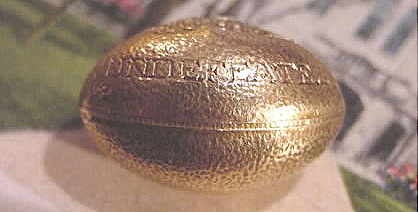 When you see vintage items like this there's a few things that go through my head.  First, of course, you want to know if this was really something that was commemorating a Michigan football season.   Keep in mind that 'M' or even blue 'M's aren't unique to Ann Arbor but I've seen these type of charms before. 
Then you've got to look at what's on the piece.  Photos can deceive but it appears to me that the year reads "1926".  The "On the Front to each side of the laces  19  and 28."  I emailed the seller and questioned his read on this – he replied that he questioned it as well but came is certain that it is an 8.
I still don't think so and here's why:
* Six and Nine.  Ignoring my own advice on making calls from bad photos, I still think it is a 6.  I mean look at the 9 on the left – the loop practically connects to the line in the middle forming an 8.  I can understand why the seller thinks it's an 8.
* The 'Undefeated'.  While neither the 1926 (7-1) nor 1928 (3-4-1) teams were undefeated, but the 1926 loss was the epic trip to Baltimore and DC to play Navy (chronicled here on this episode of This Week in Michigan Football History).   This was Yost's final season at the helm and it wouldn't be the first time the Old Man completely dismissed a loss.  Besides, the Yostmen were indeed undefeated in the conference and shared the title.
As far as the initials, there was indeed a player that would fit, or seem to fit, the engraved initials of G.J.G on the 1926 roster but also on the 1928 team.  George "T" Gundy of Grand Blanc wasn't in the team photo but made it onto the extended Bentley rosters.   J and T is another letter that I think could be interchanged especially on the style of the inscriber.  
While this doesn't help solve the 1926 vs. 1928 question, the seller couldn't remember the exact location of the estate sale where he got the charm, but he thought it was from Owosso.  That's just down the road from Grand Blanc. 
The item sold for a cool $103, a pretty good value in my mind. 
Related:
* The Wolverine Pack & 1926 – News clipping, Bennie and Benny
* Yost's Signature Helmet (1926) – Leather Yost-branded headgear
* Any Stadium Bonds out there? – Bonds to fund Michigan Stadium
* Big House Dedication – Ticket stubs, Stadium history
* Yost's Bust – Head statue of F.H. Yost
* Yost's Shiny New Packard – Beautiful car given to Yost by alums
* Freshly Minted Big House – Postcard – Great pic of '27 Stadium
Follow MVictors on Twitter