Here's a quick version of eBay Watch, it's a 1957 pocket schedule currently up for bid. Check out the non-conference line-up: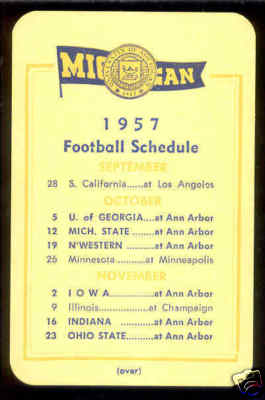 Over the past few seasons, the attention the Buckeyes have been getting over their battles with Texas and, last Saturday, with USC, have made a few Wolverines fans get scarlet in the face. Calls to sportstalk radio have asked the question, Will Michigan set up a home-and-home with one of these elite teams in the non-conference?
The fact is Michigan's got Notre Dame on the schedule until 2031 and there doesn't seem to be any indication that this will happen. Bill Martin's already indicated his preference to add another Big Ten game to the schedule once the rest of the conference are on board.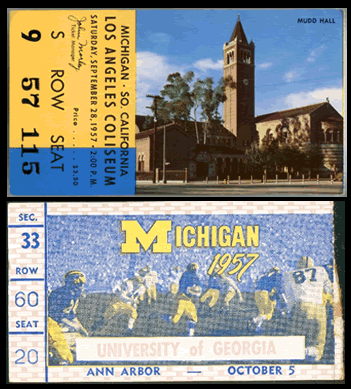 The Wolverines didn't have much trouble with these teams as those were different days. Coach Bennie Oosterbaan and crew went out to Los Angeles and handled the Trojans on September 28, 1957 16-6 in front of 43,000 fans. The next week, Michigan came home and shut-out Georgia 26-0 to the delight of 84,000 in Ann Arbor. The balance of the '57 season didn't go so hot, going 3-3-1 in their remaining games to finish 5-3-1 good for 6th in the conference.
Here's the full auction, bidding starts at $9.99.