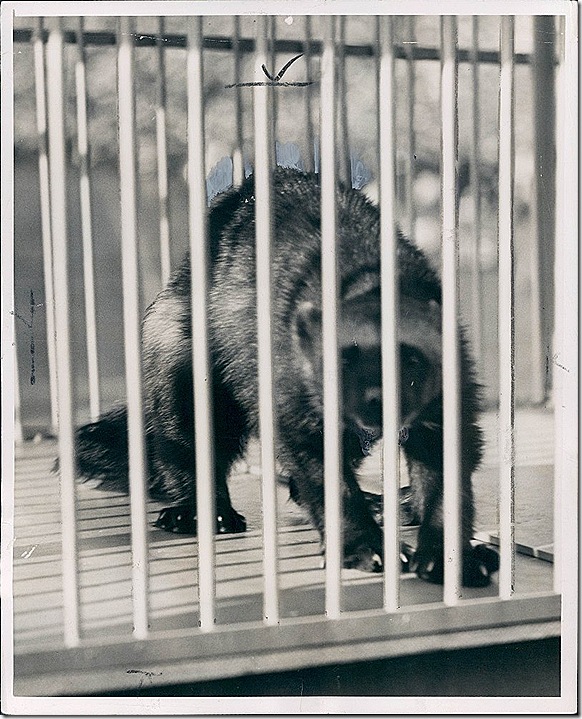 Next up on eBay Watch, we've an excellent wire photo of a live mascot wolverine.  The auction description says it dates to October 13, 1939 and was retrieved from the archives of Sport Magazine.   The beast probably was trotted out before the Michigan-Iowa match the next day, a game in which Tom Harmon dominated everyone including Iowa's great Nile Kinnick:
Harmon and Michigan routed Iowa and Heisman Trophy winner Nile Kinnick 27-7 in 1939.   This was one of the most famous of all Hawkeye teams, but Harmon ran wild, accounting for every Michigan point on four TD's and three conversion kicks.  One of Tom's scores was a 90-yard interception return.
At first glance I assumed I was gazing at either Biff or Bennie in that cage, one of the live wolverines that Fielding Yost obtained in the 1920s.  That story was detailed in this March 2008 post, 'Yost Wants a Real Wolverine, Dead or Alive'.  If you recall, FHY saw the Wisconsin team carrying around a live badger and got a wicked case of mascot envy.
A wire here, a letter there and next thing you know 'Biff' and 'Bennie' are being paraded out during Michigan home games: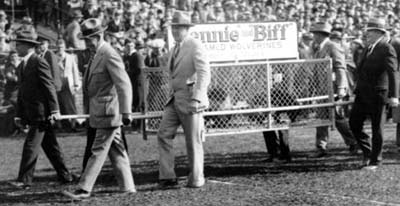 U-M Bentley Library
So naturally at first I figured the eBay auction photo featured one of those original carcajous, perhaps a bit long in the tooth.  But after a little digging it's likely that the ferocious fellow is actually "Intrepidus"!:
In 1937, the Chevrolet Motor Company donated a wolverine (as well as the cage to keep it in) to the University of Michigan. A contest was held to name the new mascot and "Intrepidus" was the winning entry. It is unclear how long Intrepidus survived, but it is known that no live wolverines have been in Michigan Stadium in the last half-century. – U-M Bentley Library
These beasts aren't meant to be caged and I'm guessing Intrepidus didn't make it much past '39.   And speaking of dead wolverines, some of you who live in the area might have heard that what's believed to be the last known living one in Michigan was found dead back in March: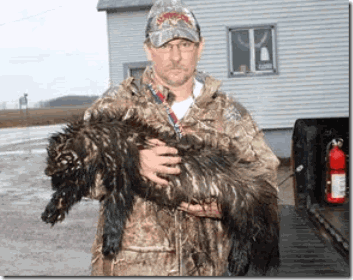 photo: via MLive, credit: Steve Noble
Adding insult to this sad story, thanks to a group of meddling kids from the Soo, there's legislation in Lansing to nix Michigan's 'The Wolverine State' nickname:
State Rep. Gary McDowell, D-Rudyard, has introduced legislation to designate "Great Lakes  State" as the official nickname for Michigan. McDowell said Wednesday that the lakes "define us as a state" and deserve to be honored.  The legislation stems from a request for an official nickname designation by Sault Ste. Marie sixth-graders in 2002.  Besides, with the death earlier this year of the state's only known living specimen, Michigan can hardly continue to claim to be the "Wolverine State."
Don't you people have anything better to do?   Punks.
P.S.  According to Wikipedia Rep. McDowell's home district of Rudyard, MI is in the UP a bit north of the bridge.  The town was indeed named after poet Rudyard Kipling, a favorite of Lloyd Carr.   (But I'm still mad.)
Here's the full auction for the Intrepidus wire photo.