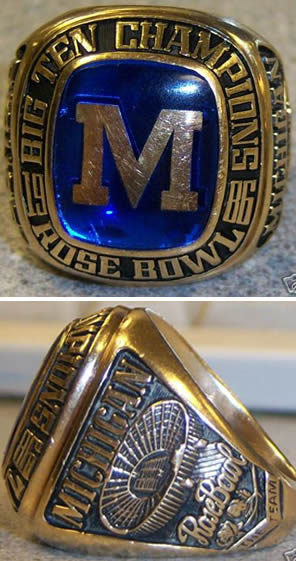 Once again we've got a Michigan Rose Bowl ring on eBay adding to the recent auctions of the 1977-78 and 1980-81 versions. This time it's a beauty from the 1986 season and it commemorates the Rose Bowl appearance [see the auction here].
The game was unfortunately a loss for the Wolverines who fell to 22-15 to Arizona State in Pasadena. Schembechler's men actually played 13 games that season somehow getting the green light to schedule Hawaii after the close of the Big Ten schedule. A shocking defeat to Minnesota on November 15th was the only other setback that season for the Wolverines who ended up ranked #8 in the AP.
The seller is a true beauty himself…see what I mean as you check out this warning to bidders within the item description:
If you have zero feedback or less please bypass this auction unless you contact us first, otherwise your bid will unfortunately be cancelled then stomped all over before we catapult it into outer space using our giant intergalactic slingshot. There are too many of you rascals out there who understand with absolute precision how to place a bid but freeze up like a popsicle during the payment process it's really quite weird.
This ring is very nice. A little worn, but the inscription of "The Team" below the likeness of Rose Bowl makes it special. I'm guessing it'll fetch a couple grand even in these hard times.
As far as these rings going up on eBay, it hurts a little bit to see these up on the block but we just don't know the circumstances behind the sale (if it was sold legitimately) and I like the way MVictors reader Brian framed it in his comment a couple weeks ago:
….I think getting items like this into the hands of those that appreciate them and would happily display them is better than storing them in some box in an attic where grandkids will throw them away. I'm convinced that those that appreciate their UM FB experience would not sell them unless they are in dire straights. Those that don't appreciate it….shouldn't have it in the first place. I expect a Boren ring to show up soon.
UPDATE 6/2: Is this Garland Rivers' Ring?