Check out this piece of history and a bite-sized slice of my favorite pastime—the Little Brown Jug: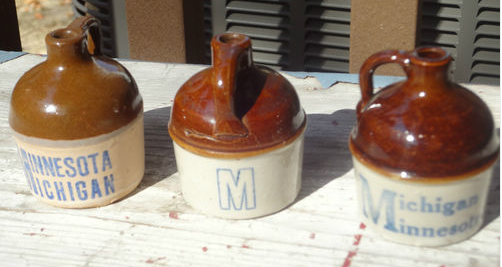 These beauties are different varieties of tiny replicas created by Red Wing Pottery back in the 1920s and 1930s as souvenirs for the big game.  Based on the traffic I see on eBay these days jug artifacts, including these beauties, are very popular and thus highly collectible.
The original Jug purchased back on Michigan's trip to Minnesota was certainly a Red Wing product.  The company is just 90 miles from Minneapolis and cranked out all kinds of stoneware receptacles including a plethora of 5 gallon jugs (photo from the newsletter of the Red Wing Collectors Society):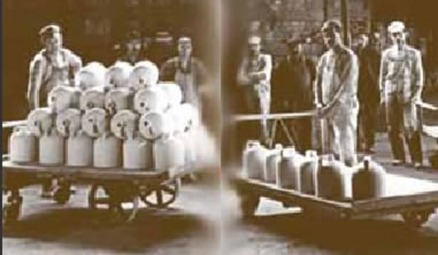 Dang I love those shots!   I emailed the society for a better look – stay tuned.
Regarding those jugs in the eBay auction thanks to Ken Magee, owner of Ann Arbor Sports Memorabilia, I got a little more info.  He sent along this passage along including a great nugget of history:
A five-gallon beehive "little brown jug" has been a symbol of the football rivalry between Minnesota and Michigan since 1909.  Many 1/8 pint fancy variations were used over the years to promote the annual event.  It was recently learned that in 1930 two University of Minnesota students pooled their resources and ordered 5,000 miniature jugs (minimum order for stenciled pieces) from their local Red Wing office to sell at that year's game.   They paid 20 [cents] each and tried to sell them for 50 [cents] each. It proved to be a financial disaster and they were still paying off their debt after they graduated.
Ouch. Tough investment strategy in the heart of the Depression, boys.  It's too bad they couldn't outlive that rough market–today one of the tiny jugs fetches $200+ and for this collection the seller is asking $1900.   Maybe the fact the real jug went missing from 1931 to 1933 hurt the market.
To cut costs (and to avoid the 5,000 minimum order) they tried a few different ways to acknowledge the game—including stickers, paint and pins: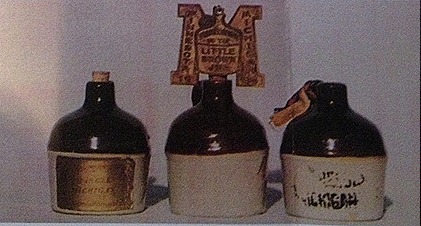 If that pin looks familiar I have one from 1934 and it's probably the favorite piece of Jug lore that I own: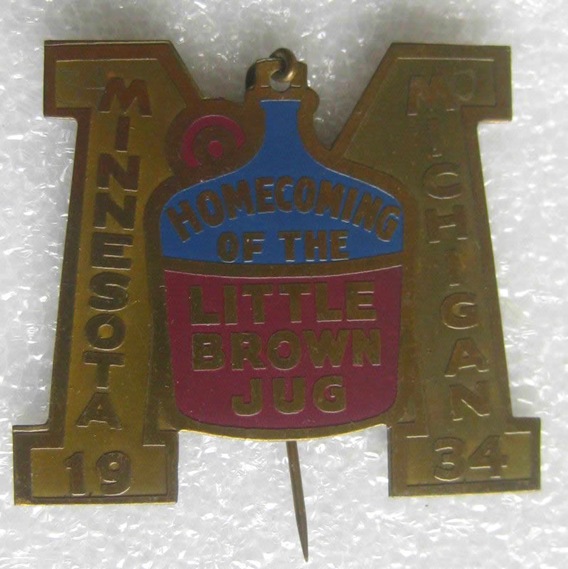 The pins alone fetch $150 minimum on eBay.
Speaking of the jug–If you want to get a look at the real deal, last I saw it was still chilling in the halls at the Crisler Center on display.  Not too long ago I steered a couple Twitter followers wrong by suggesting this was the replica.  The football threw me off because that is usually sitting next to the replica in the display case at Schembechler Hall.   This is indeed the real McCoy.  (Trust me.)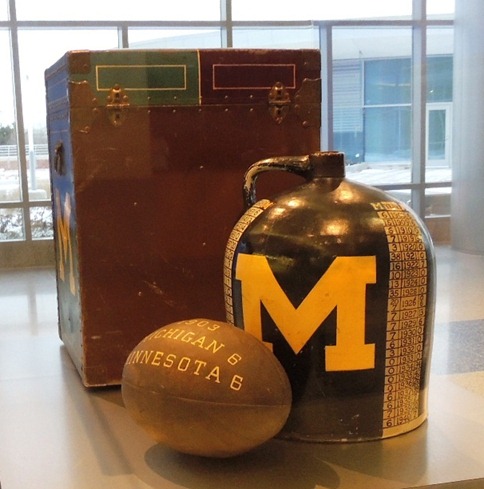 It won't be there forever.  Chatting with media relations, as I understand it she will be back in its special hiding spot soon.
Want to bid on the mini-Jugs?   Plenty of time to bid now.  Or chill and brush up on your Little Brown Jug Lore.
Follow MVictors on Twitter