I mentioned last time that the memorabilia auction action has picked up a bit. There's been so many one-of-a-kind items lately that I feel an obligation to get them out there. Here you go, apologies for the dump:
1. Bo and Woody's Notes. An incredible item. The seller claims the following:
In 1969, the University of Wisconsin requested that all Big 10 coaches send to them a sampling of plays and words of wisdom that they kept in the athletic department for 35 years. They auctioned off all of it a few years ago and I was given chance to pick up 2 of the items..
Here's a look at what Bo submitted: his eleven thoughts on "Basic Offensive Thinking":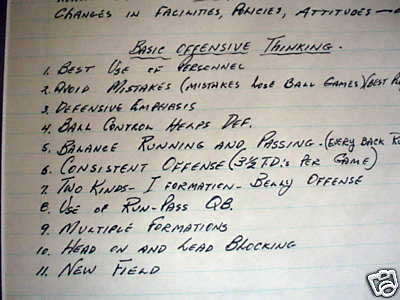 Woody Hayes diagrammed a few plays which are also included in the auction. Again, from the description:
The Ohio State University coach Woody Hayes diagram of 4 plays a Trap, 14 pass, 14 sweep and 98 Jet Pass(all hand diagramed by Woody). He also has notes on here like ""QB Look deep as you come out" Funny thing is that he chose 2 passes which was 2 more than he would be willing to run.
Here's a link to the auction. It was bid up to just under $1,000 but did not meet the seller's reserve.
2. Game Contract between OSU and EMU Executed by E.J. Rynearson himself, a contract paying $600 for a "B" game that was to be played between Ohio State and Michigan Normal's (now Eastern Michigan) in Ypsilanti.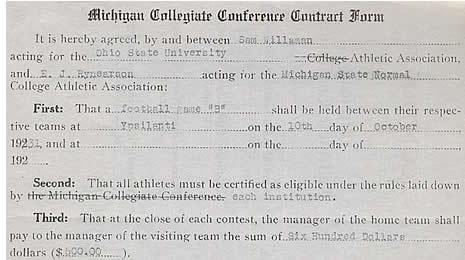 Not sure what a "B" game is/was, but the occasional double-header happened during the Depression in an effort to boost revenue (you can read about that in my article in Hail to the Victors 2008). But…this wasn't double header as Ohio State didn't travel to Ypsilanti that week, they actually hosted Vanderbilt and lost on October 10, 1931: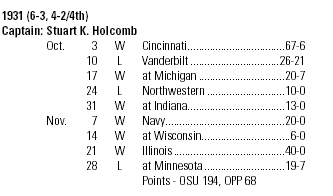 Here's a link to this one. It sold for $128.
3. 1906 Graham Postcard The next item is a post card featuring Michigan's lineman Walter 'Octy' Graham. The Chicago-born lineman played for Fielding Yost from 1904-06 during the point-a-minute reign of terror. Looks like the portly Graham conducted a few personal reigns of terror at the local bakery. Here's the postcard, a tad weathered but still pretty cool: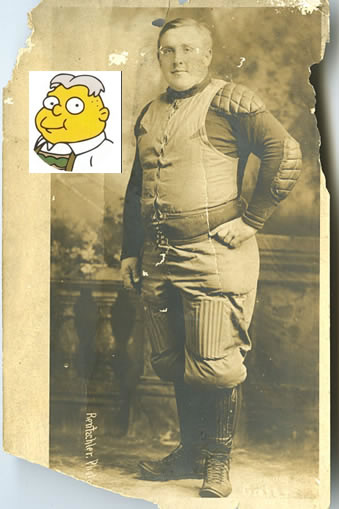 Funny thing. Coach Yost is mysteriously absent from the official Bentley Library '06 team photo, but he appears in two alternate team shots taken campus [view #1 here, #2 here].
Here's a link to this one. It was still up for auction at the time of this post.
4. 1939 Crisler gives Buckeyes Props The true gentleman. Here's a letter from Fritz Crisler congratulating Ohio State's athletic director on their 1939 conference championship. Note that Crisler gently reminds the Buckeye AD who won their head-to-head match-up that season: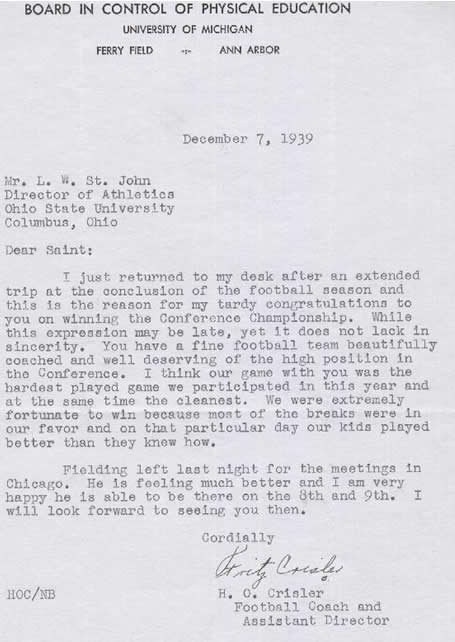 Great stuff. Here's a link to the auction. It sold for nearly $230.
**Update on this one: Is that Crisler signature a forgery?
5. Fritz recommends Biggie Munn for Sullivan Another cool letter from Crisler from the Biggie Munn estate. This is a personal letter of recommendation from the, at the time, Princeton coach to a muckety muck at Minnesota recommending Munn for the Sullivan award, which is presented to the outstanding amateur athlete (in any sport). Very nice: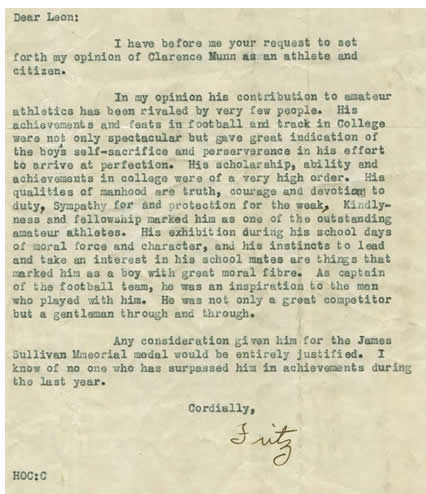 Crisler's note wasn't enough to give Munn the nod, but oh well. Munn's got a hockey arena now, while winner "Jarring Jim" Bausch has a three sentence Wikipedia entry. (Props – JJ did take the gold in the 1932 decathlon). Here's a link to the auction. It's still out there for sale.
6. Yost on Radio Broadcasts Another letter to the Buckeyes, this time a 1933 missive from AD Yost sharing his thoughts on the onset of radio broadcasters in college football. Note that in the Depression Era letter, Yost admitted a few concerns: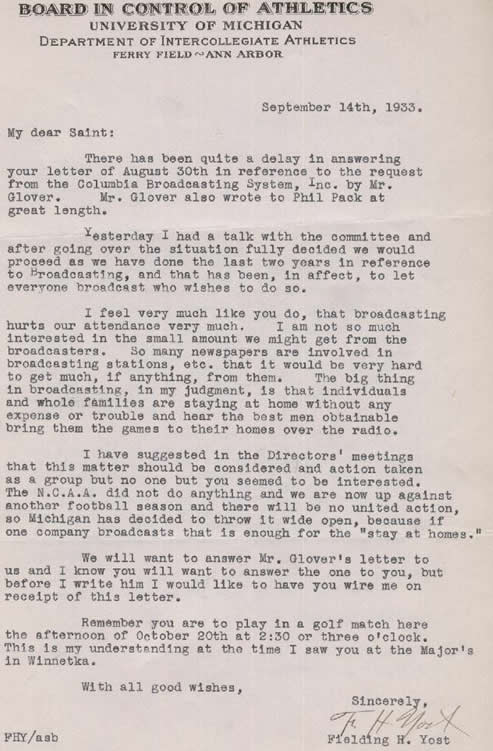 I love the reminder of the golf game at the end. Here's a link to the auction. It went for $456.