A fine piece of Michigan baseball history popped up on eBay recently, check out this gem: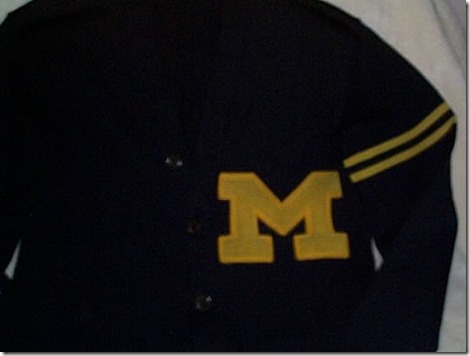 The auction description noted the sweater was size 42, in good condition and noted that the name of the letter winner could be found inside (but didn't mention who it was). 
You have to be careful with these items that are being presented at Michigan memorabilia just because there's a maize or blue 'M' somewhere on the item.   But this looked pretty authentic & the seller told me the name inside the sweater was a gent named "Berger Larson".
Larson was a team captain and a fine pitcher for the Wolverine baseballers in the mid-1930s.  He was named conference MVP for Ray Fisher's league championship squad of 1935-36.  Here's a look at him: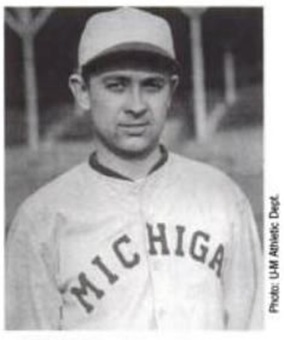 U-M Athletic Department via Champions of the West
Larson finished the year 7-2 with 83 strikeouts in his 72 innings of work including a five-hitter against Iowa in the season finale, enough to clinch league title.
After Michigan, Larson tried a shot at the bigs, starting out with the Class A Davenport Blue Sox in the Brooklyn Dodgers system.  He got off to a nice start, going 6-5 with a 2.94 ERA but never got much going after that.
The auction for the sweater closed recently, going for $52–a pretty good value for the buyer.