On November 20, 1976, Bo Schembechler and his Michigan Wolverines were about to continue their Ten Year War with Ohio State coach Woody Hayes, this time down in the snake pit Columbus. Bo was prepared all season to battle his mentor and rival, but he wasn't alone. As the game approached that November, Michigan man, letterman and broadcaster Bob Ufer prepared a special message to the old coach from Columbus he called Dr. Strangehayes…it was this poem:




"Ohio Came To Bury Michigan, All Wrapped In Maize And Blue
The Words Were Said, The Prayers Were Read And Everybody Cried
But When They Closed The Coffin, There Was Someone Else Inside!

The Bucks Came To Bury The Wolverines – But Michigan Wasn't Dead,
And When The Game Was Over, It Was Someone Else Instead.

Twenty-Two Michigan Wolverines Put On The Gloves Of Gray,
And As Cavender Played "The Victors", They Laid Woody Hayes Away!"
As the game approached, Bob Ufer's wife built a makeshift coffin out of a shoebox and a doll to represent the Woody burial. Ufer showed the box to his friend and engineer Jack Decou who fashioned an actual wooden coffin for his buddy, and it showed up on eBay this week: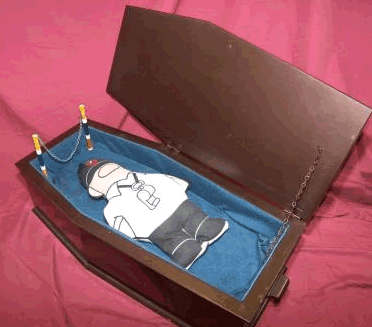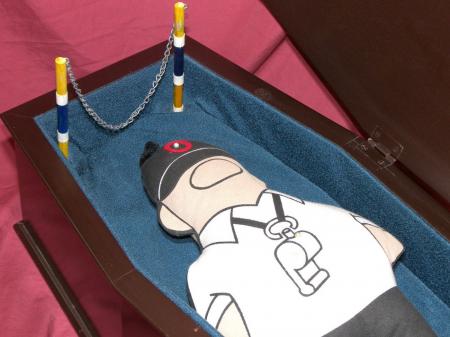 #4 ranked Michigan defeated Hayes and #8 Ohio State that day 22-0. When Ufer died of cancer in 1981, the family gave the coffin back to Decou and yadda, yadda, yadda, it ended up on eBay.
This is quite an item and assuming the background in the auction is correct, a true one-of-a-kind piece of Michigan history. Ufer's legacy at Michigan is quite secure; his business and family are still a force around town. And folks around Ann Arbor may have noticed that WTKA 1050AM is replaying entire Bob Ufer-broadcast games from 12-3 every Sunday during the 2008 season.
The coffin is a little bit creepy, given that Woody Hayes is actually dead now of course, but if you can shake off those willies you've got a chance to own a pretty cool item. Bidding started at $9.98, here's the full auction. Shipping is $22 and you may want to send it directly to your place of business (good luck explaining to your wife why you paid $300 for a coffin and a doll).