The next edition of eBay Watch once again looks over at Mastro Auctions for another cool item, this time an autographed copy of Woody Hayes' 1969 tome, 'Hot Line to Victory'. It's just one item in a collection of old programs and other goodies, but this is the standout item to me. Here's the full auction.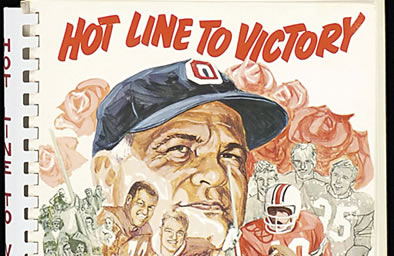 There are many autographed copies of Hot Line out there, but this one has a special note inside: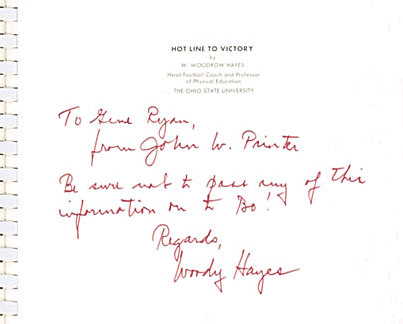 If you can't make it out it reads:
To Gene Ryan
From John W. Printer [not sure what that means]

Be sure not to pass any of this information on to Bo!
Regards,
Woody Hayes
I wish I knew who Gene Ryan is and whether he truly had some ties to Bo Schembechler, but either way this pretty cool. Michael Rosenberg talked a bit about Hot Line to Victory in his great book, War As They Knew It. In it he Rosenberg describes the Woody's tome as a "football textbook" and added, "the book was intended for the general public–Hayes wanted to share strategy and tactics with anybody who would listen."
While we don't know who Gene Ryan is (yet), we do know that Woody's comments not surprisingly were in jest. Obviously Bo could have grabbed a copy off the shelf himself, but Woody made it easy. According to Rosenberg's book, in June 1970 Hayes sent a copy of Hot Line to his protege' and included a personal note to "a truly great coach and friend, Bo Schembechler".