Another unique piece of Michigan memorabilia went for auction this week on eBay, this time a program from the Minnesota game played on November 21, 1925 at Ferry Field. It sold for just over $42 and makes for a great topic for this installment of eBay Watch. The cover features Michigan's captain Bob Brown and "Biff", the living and breathing Wolverine mascot: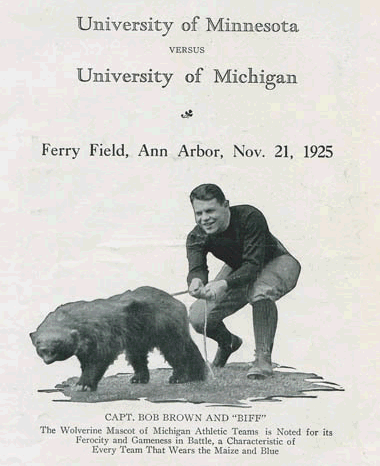 The caption reads "The Wolverine Mascot of Michigan Athletic Teams is noted for its Ferocity and Gameness in Battle, a Characteristic of Every Team That Wears the Maize and Blue." Indeed. It looks like Biff is giving Bob a run for his money.
Yost is such a beauty. You can thank the old legend for getting an actual wolverine on campus. The Bentley Historical Library has some details on his quest to find one of these ferocious beasts:
Fielding Yost set out to find a wolverine in 1923, after seeing Wisconsin carry live badgers along with its football team. Yost's desire met with difficulty, as the coach had problems finding a dealer of live wolverines. After a letter to 68 trappers yielded no mascot for his team, Yost expanded his wish to any wolverine, alive or dead.
It's unclear whether Yost also removed the foreign language requirement for the wily beast. And how about the old man sending sixty-eight letters to trappers?! Granted trapping was likely a bit more prevalent back in the 1920s but where did Yost find the names and addresses of all these guys? Finally his persistence paid off, again from the Bentley:
Yost was finally able to obtain a mounted wolverine from the Hudson's Bay Fur Company in the fall of 1924, but his quest for a live one continued. In 1927, 10 wolverines were obtained from Alaska and placed in the Detroit Zoo. On big football days, two of these wolverines were brought into Michigan Stadium and carried around in cages.
Did you order the code red?
Hmm….methinks the Bentley Library got this one wrong. If Yost didn't get a live Wolverine until 1927 as the story implies, how was old Biff featured on the cover of a 1925 program? Something's not jiving there as either this program is a fake (that's a lot of work for $40), the Biff on the program is stuffed, or the Bentley's info is wrong.
It's too bad because this type of info spreads, as National Geographic apparently found the Bentley info and included it in this piece on wolverines (see the Did You Know? section). Memo to National Geographic: how about a source for that swipe job?
One Setback
The 1925 squad was another fine one for Yost, finishing 7-1 and outscoring opponents 227-3. The one setback was a 3-2 loss to Northwestern in front of 40,000 fans at Solider Field. The Minnesota game capped the season off on a great note as Yost, Brown and the great Bennie Oosterbaan crushed the Gophers 35-0 before 47,000.