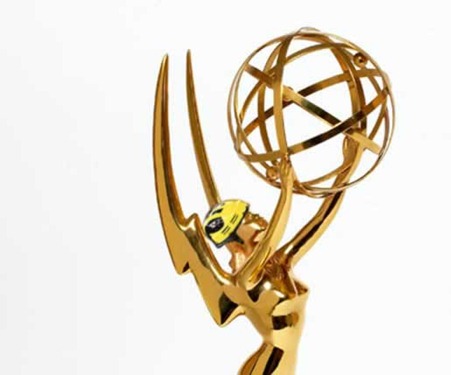 Congratulations to my pals at Stunt3 Multimedia and to John U. Bacon.  The 2012 Michigan Emmy nominations were released this week and Fox Sports Detroit received the nod in the 'Sports – One time Special' category for Bacon's Blue Ice: The Story of Michigan Hockey.  (P.S. how can a hockey film lose in a category that includes the phrase 'one time'?)
In the Best Historical Documentary category, Stunt3's Black and Blue The Story of Gerald Ford, Willis Ward and the 1934 Michigan-Georgia Tech Game" got the nom.  Duh.  Black and Blue will be screened again in Ann Arbor on Tuesday, May 22, at the Gerald R. Ford Presidential Library.   This is the director's cut of the film, and contains new footage and additional materials (including incredible pics of Ward and Ford in the White House) they received since the initial launch.
As an aside, Bacon's wonderful book and Stunt3's research for their doc couldn't have been done or certainly done to the degree of the finished product without the U-M Bentley Historical Library.  So give the Bentley an assist.
The awards will be presented on June 16 at Motor City Casino, so you can watch these guys take home the hardware.