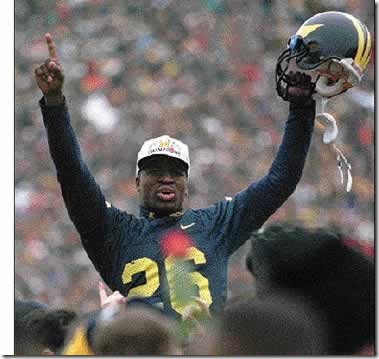 Mayes after '97 Ohio State game – Photo: Michigan Daily
Former walk-on who became team captain of the 1997 National Champions Eric Mayes joined WTKA yesterday, worth a listen:
Eric Mayes
Play Now
|
Play in Popup
|
Download
He talked about his first experience hitting the field, and his first time coming out of the tunnel ("There's nothing like coming out of there.")
Ben Holden asked about his concerns for the defense, he said "chemistry".  "Having fun, believing in the assignments they are given" along with having faith in the guys on either side of them.
"You don't have to have the best players to win championship; you have to have the best team."
On Brandon Graham: "There's a special title at Michigan and it's called 'senior.'"
He talked about staying in touch with teammates especially the 1997 team and the importance of that team's role and how he looks forward to meeting future national championship teams.