Update 9/11/2011 – The Big Man was on the field for the epic 2011 Notre Dame game – more here.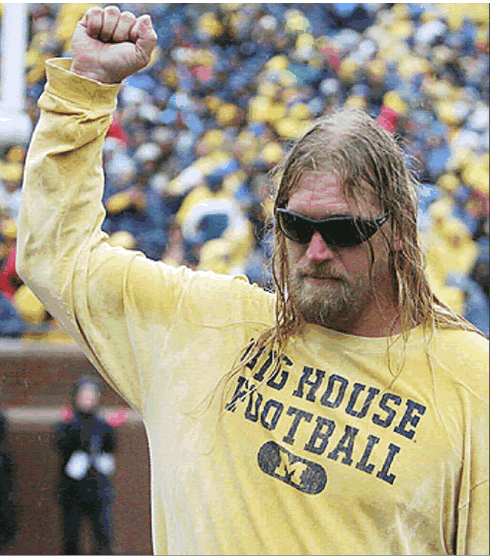 Former Michigan offensive lineman Steve Everitt (89-92) was one of the honorary captains at today's game. A few quick stories:
* After a bowl game (I believe the 1993 Rose Bowl in Everitt's senior year), ABC was doing a post game interview when a deep voice bellowed, "EVERITT RULES!"
* He lost his helmet and had his jaw shattered in the middle of the 1991 Notre Dame game. Doctors put three plates to stabilize his jaw and they gave him a special chinstrap. He returned to play 20 days later. One of the screws they used to insert the plates came loose and has yet to be found.
* During a trip to the Rose Bowl, Everitt climbed that hill that has the Hollywood sign. Someone got a pic of Everitt dangling from one of the letter Ls.
* While playing center he broke his snapping hand. He learned how to snap with the other hand and didn't miss any action.
* The sideline Wok microphones were aimed at the offensive line one game, I don't know the circumstances. The team is watching the game film. Everitt pancakes a guy from the other team, gets right in his grill and asks him over and over, "YOU LIKE THAT, HUH? YOU LIKE THAT, HUH?".