Jim Rome has been off the air the past 2 weeks on vacation and a variety of guests filled in for the pimp in the box. Among them were frequest fill-in John Feinstein, along with Cheap Seats hosts the Randy and Jason Sklar, and first time hosts Stoney and Wojo of WDFN 1130 in Detroit. A few takes:
–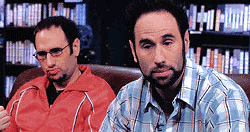 The Sklar Brothers seem to have a love/hate relationship with sports fans, but I definitely chalk the 1994 Michigan graduates up in the righteous column. Their schtick is a blend of pop culture and sports (not unlike the regular host Rome), and I like the way they bring it on the radio. A classic moment this past week was when they recalled a friend describing the smell inside the Philly Fanatic's mascot head as an odor of "Jagermeister, Doritos and broken dreams." They also let everyone know that Shane Battier's head, when shaved, resembles the Michigan football helmet.
– As for Feinstein…he's a great writer, great golf books and Hard Courts was an excellent read. A Season on the Brink on Coach Knight is a classic. But if you invest 3 hours of your life with Feinstein on the radio be prepared to hear about Duke basketball or how great the Army-Navy football, or something going on between Philadelphia and Durham, NC. That's about it. To his credit he had Coach K himself call in to break things down.
– Those of us in Ann Arbor can pick up Stoney and Wojo's regular show from 3-6pm ET on WDFN. It was interesting listening to the local duo get their shot at the big time as they hosted for Rome on 7/13. I listened to some of the show and basically it turned into a Detroit against the world conversation, with the occasional call from outside Michigan calling out the Wolverines, Pistons or Lions. They had solid interviews with Kitna and Tiger manager Jim Leyland, who broke down his habit of pulling slots to relax. They did try some of their typical bits which were pretty painful, including a poll where you had to pick one person to support, Bud Selig or Barry Bonds. The bit is called 'Death is not an option', as in, you have to pick one or the other. I wish this bit was not an option b/c it was like death.
Overall it sounded like they did a decent job and got some national exposure. Their show is the finest in Detroit in any timeslot.