Days after I noted that the 1997 Michigan national championship ring was offered on eBay for $3,600 but yielded no takers, lookie here.
A seller has countered with a 1997 Nebraska "national championship" ring asking for $2,500 or best offer. I think that settles the debate over this once and for all. (Well, not really, but I think this is about as relevant as pointing out the hypothetical Vegas line on a hypothetical game between Michigan and Nebraska).
Anyway, here's what the Cornhusker version looks like, note the likeness of Coach Tom Osborne on the side: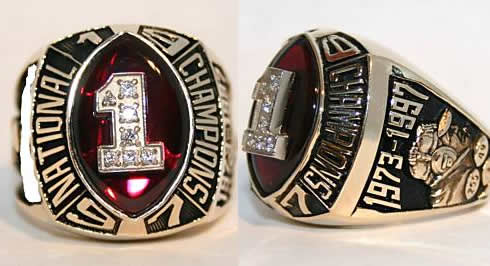 The seller claims this version is authentic and was originally owned by one of the coaches. Here's the full auction.