As discussed this weekend, Dave Brandon said he planned to extend an offer to the families of U-M players who've had their jersey number retired to be honored as Michigan Football Legends.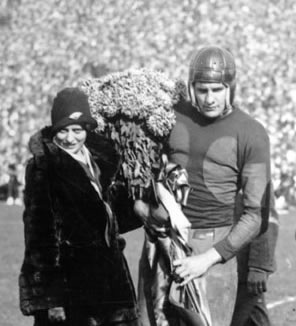 If those families signed off, that would mean U-M would effectively "un-retire" those numbers and have them join #21 in the Legends program with a dedicated locker, a special patch on the jersey along with some prime, dedicated real estate in Victors Valhalla* inside Schembechler Hall.  
As mentioned I'd like to see this happen and I hope those families eventually agree to do this. 
Of course we won't ever see a timetable from State Street for this to happen, so I sought out Ben McCready, the godson of Bennie Oosterbaan, to get his thoughts. 
"I would love to see #47 on the field again," McCready told me.  "It would remind players and fans, old and new, about the incredible playing and coaching legacy of the greatest athlete in the history of the University of Michigan."
McCready also recently contacted a couple of Oosterbaan's closer living relatives and found that they were also supportive of the Legends concept.  "They loved the idea," he shared.
So—this is far from official and we'll see where this goes from here, but I see this as excellent news.  If the Oosterbaan family steps up and supports the program, perhaps it'll set a precedent for families of the other M men with retired numbers to climb aboard.
Photo via U-M Bentley Historical Library
* ok, I made up that name but I like it.

Follow MVictors on Twitter