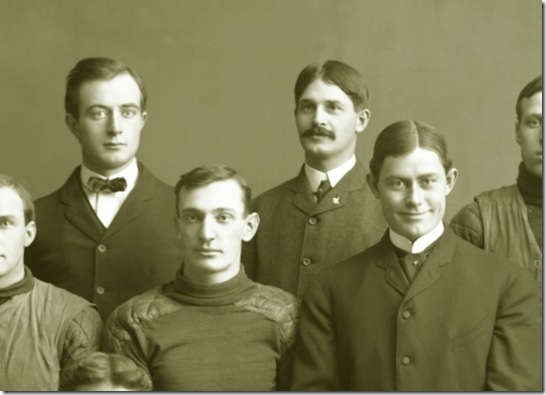 McGugin, top left, a century ahead of Dhani's bowtie revolution.
[from 1903 team photo – U-M Bentley Library]
Guest post By Jonathan Gluck
Upon retiring from the head coaching position at Vanderbilt University in 1934, Dan McGugin had amassed nearly two hundred wins in his thirty-year career. He had established Vanderbilt as the South's premiere football program. Nashville sportswriter Fred Russell described McGugin's time at Vanderbilt, "For years he ruled supreme in Dixie and his teams won glorious intersectional victories. More than any one man, he was responsible for the progress of Southern football."
McGugin's success as a coach can be partially attributed to his relationship with legendary Fielding Yost of University of Michigan. Yost mentored Dan in his early years in Ann Arbor. Later, the two became brothers-in-law, business partners, and close friends. Both men were representative of the class of game-changing coaches in the early 20th century: highly intelligent, well educated, business savvy, and most importantly, of utmost integrity and character. The relationship between these men, nearly forty years long, culminated on a warm Saturday morning in 1922 as McGugin challenged his friend Fielding Yost in the game they both loved.
I am incredibly fortunate to know Coach George McGugin, Dan McGugin's grandson. George, a 1958 alumnus of my alma mater, Montgomery Bell Academy, was a volunteer coach and early influence on my high school football career.
Though he never knew his grandfather, whom he affectionately refers to as Coach McGugin, George shared with me the story of his family's history. When asked how his grandfather's family settled in the Midwest, he responded, "Coach McGugin's father, Benjamin Franklin McGugin, and his two brothers fought for a Union regiment from Ohio during the Civil War. He was captured and sent to the infamous Andersonville Prison in Georgia from which he escaped." After the war, Benjamin McGugin moved his family to Tingley, Iowa, a small town sixty miles southwest of DesMoines, where his son Daniel Earle was born on July 29, 1879.
Dan enrolled at Drake University in 1895 at age 16. He was encouraged to try out for the football team and played tackle for two years, scoring a few touchdowns and even punting the football. For two consecutive years Drake's footballers opposed teams led by up-and-coming coach Fielding Yost.
In 1898 Drake beat Yost's Nebraska and lost the following season to his next team, Kansas. It is unknown whether McGugin played in either of these games. Yost spent the 1900 season coaching five championship teams in northern California: the Stanford University varsity and freshmen, San Jose Teachers College, Ukiah High School, and Lowell High School. In 1901, University of Michigan hired Yost as its first full-time professional coach. That same year, Dan McGugin graduated from Drake and began Law School at Michigan. While George McGugin speculates that Yost recruited his grandfather to Michigan, it is unknown why Dan chose Ann Arbor. Nevertheless, his decision would be critical to his future as a football coach and relationship with Fielding Yost.
After arriving in Ann Arbor, McGugin sought out Coach Yost, hoping to earn a spot on the Michigan team. McGugin's prior collegiate football experience appealed to Yost, who, in his early years of coaching, was known for his "creative interpretation of rules of eligibility and recruiting." Although McGugin did not compare in stature to Michigan's imposing linemen, he made up for a lack of size with speed and quickness. He started at guard for two years and played an integral part on Yost's "Point-a-Minute" teams. On January 1, 1902 the Wolverines dominated Yost's former team Stanford 49-0 in the first ever Tournament East-West game, now known as the Rose Bowl.
McGugin's eligibility ended before his third year of law school. He remained connected with the team as Yost's assistant coach for the 1903 season. Upon graduating from law school in the spring of 1904 at age 24, he began practicing in Detroit while also looking for coaching positions. Around the same time, Yost heard from an old friend who happened to be in the market for a head coach.
In 1897, Yost had befriended Vanderbilt University President Dr. William Dudley at a Sigma Chi fraternity convention in Nashville. Seven years later, Dudley, who was seeking a new head coach for Vanderbilt and immensely impressed with Yost's record at Michigan, asked for a recommendation. Yost immediately suggested his apprentice McGugin, who had nearly accepted the head coaching job at Case Western Reserve, only to withdraw his name from Case and commit to Vanderbilt.   According to his grandson, "Coach McGugin recalled as a boy the harsh winters in south central Iowa and, after his dad talked about how mild the winters were in the South, had in the back of his mind wanting to spend some time there. Thus, wanting to be a college head football coach, the opening at Vanderbilt provided that opportunity as well as the opportunity to move to the South."
McGugin arrived in Nashville for his first season with the Commodores in September 1904, two months after accepting to position as Vanderbilt. He was immediately hailed for bringing Michigan football to the South. His team perfected Yost's systems of interference and defense and executed a no-huddle style offense Hurry-Up himself would have praised. In eight games, Vanderbilt scored 452 points while surrendering only four.
The newfound popularity of the "McGuginmen" even pulled the Vanderbilt Athletic Association out of debt for the first time in history after 7,000 fans attended a decisive Thanksgiving Day victory over rival Sewanee. In less than three months, McGugin had led Vanderbilt to the pinnacle of Southern football. He would not lose to a southern team until 1909.
Soon after the end of the 1904 season, McGugin met Virginia Fite, a southern belle daughter of prominent Nashvillian Colonel Leonard B. Fite. [editor's note.  life goal: to have people refer to me as "Colonel" in my later days – GD].   It is unknown how the two met, but they fell in love and engaged to marry. And in the summer of 1905, Dan and Virginia planned to visit Detroit for a reunion of the famed 1901 Michigan championship team. George McGugin recalled that Virginia's mother would permit her youngest daughter to travel with Dan only if Virginia's elder sister Eunice accompanied the two as a chaperone. During the trip Fielding Yost fell for the equally beautiful Eunice and the two became engaged. Yost served as McGugin's best man at his wedding in December of 1905 and McGugin returned the favor in March 19.
Over the next fifteen years McGugin and Yost, who resided in Ann Arbor only during football season, lived in side-by-side homes on Nashville's West End. They shared offices in the First National Bank Building, established one of the city's finest law partnerships, and financed a hydro-electric power plant in the Tennessee River Valley.  Yost even assisted his former player in preparing the Commodores for the 1905 season, and appears crouching next to McGugin in the team picture.
Perhaps Yost's true purpose was advanced scouting of his brother-in-law's squad. Several months later the Commodores, in McGugin's absence as he returned to Tingley for a family emergency, lost a hard-fought game 18-0 to Michigan. Considered a moral victory, the Michigan Daily proclaimed, "It was the finest exhibition of sheer pluck and determination ever seen on Ferry Field." The coaches met six more times before 1922, the year of the inaugural game at Dudley Field. Fred Russell argued that Yost influenced Vanderbilt football extensively behind the scenes from 1906-1922. Dan McGugin, certainly with the help of Fielding Yost, had established the South's premiere football program.
For the next twelve years Vanderbilt continued to dominate Southern football. The McGuginmen won several decisive victories over John Heisman's Georgia Tech and rarely lost to in-state rival Sewanee. More than a decade of progress stalled near the end of the 1910's. In April 1917 the United States Congress declared war on Germany and four million young men were drafted to the military. Nearly all of McGugin's 1916 team enlisted in the military after the declaration of war, leaving replacement players to fill the roster. The coach himself missed the entire 1918 season while serving in the Army, earning the nickname "Colonel" in the process. Following the war, Vanderbilt reestablished itself at the top of southern football. In 1921 they won almost every game and regained the Southern championship. Entering the 1922 season, McGugin's Commodores, led by captain Jess Neely, were primed for another dominating performance.
The McGuginmen rolled to two early victories over Tennessee Normal and Henderson-Brown. On Saturday morning, October 14, 1922, Dan McGugin hosted his brother-in-law's Wolverines in the inaugural game at William Dudley Field. He would be playing against Fielding Yost and honoring William Dudley, the two men who were responsible for his hiring at Vanderbilt. Although McGugin returned a strong team and had historically fared well against the Wolverines, he was taking a serious chance. Michigan's physically dominating team, fresh off a 48-0 rout of Case Western, featured three All-Americas: Harry Kipke, Paul Goebel, and Jack Blott. '
Fred Russell described the scene in 50 Years of Vanderbilt Football, "the day was warm, the field a virgin green handsomely crossed by its white stripes, the goal posts enticingly laced with Vanderbilt and Michigan colors." The guests of honor included Governor Alf Taylor and Cornelius Vanderbilt, great-great-grandson of the university's founder. McGugin, who was always known as an inspirational leader and excellent motivator, addressed his men prior to taking the field, "You are going against Yankees, some of whose grandfathers killed your grandfathers in the Civil War." (Colonel McGugin failed to mention that his father had fought for the Union while Coach Yost's had served for the Confederacy).
The Commodores, brimming with excitement from their coach's emotional appeal, took the fight to the Wolverines. The two teams battled for field position all afternoon until late in the game Michigan drove the ball deep into Vanderbilt's side. Defending the final yard of their territory, urged by their passionate coach and willed by their lion-hearted captain Jess Neely, the Black and Gold withstood the powerful Michigan surge on four consecutive plays. The game ended in a scoreless tie. Seventeen years after their first coaching match-up, McGugin finally tied his old friend Yost.
Dan McGugin would go on to coach another twelve years at Vanderbilt, retiring in 1934. One of the winningest coaches in college football history and among the few who coached at only one institution, his 197 wins and 76% all-time winning percentage rank in the top 25 of both categories. Near the end of his coaching career, he also served as President of the Football Coaches' Association and Athletic Director at Vanderbilt. Two years after retiring, he died of a massive heart attack January 19, 1936 at age 56. More than anything, he is remembered for his contribution to the development of college football in the South. But few know of his lifelong friendship with Fielding Yost. Yost helped McGugin get hired at Vanderbilt, and then served as a formidable opponent, brother-in-law, and business partner for many years. Their 1922 match-up exemplifies the passion they had for football and respect for each other. Fuzzy Woodruff, in his History of Southern Football, wrote, "The plain facts of the business are that McGugin stood out in the South like Gulliver among the native sons of Lilliput.  There was no foeman worthy of the McGugin steel."
[Ed. This piece was originally prepared by Gluck for John U. Bacon's History of College Athletics class at U-M.  Gluck is from Nashville, TN and a second generation Michigan grad of 2008.  He's currently at dental school in San Francisco at University of the Pacific.]