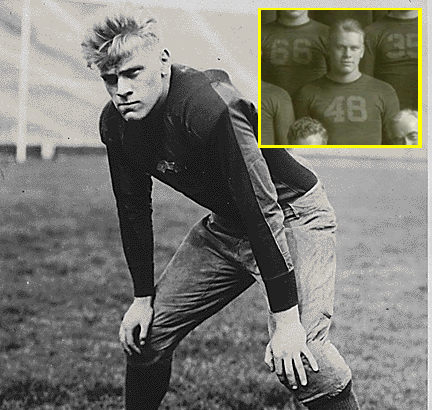 We all learned this morning that President Ford died yesterday at the age of 93. Many know of his ties to the University of Michigan and of course to some of the great Michigan football teams of the 1930s led by Harry Kipke. The above photo was taken from the 1934 team photo, Ford was starting center on that squad.
As a three year letter winner, Ford was part of 2 national championships (1932, 1933). As far as individual honors, Ford won Michigan's Meyer Morton Award in 1932 which goes to the player that shows the greatest development during spring football [photo: Ford with the award]. In 1934 he was elected Most Valuable Player.
As for the 1934 team, it has to be noted that the team was a real stinker. After coming off back-to-back national championships, it was apparantly a major rebuilding year. The team only managed one win, a 9-2 squeaker over Georgia Tech in Ann Arbor. For the season the Wolverines were outscored 143-21 and held scoreless five times.
Geoff's Larcom's piece in today's (12/27/06) Ann Arbor News didn't shy away from the 1934 season, pointing out a few interesting things. First, that Georgia Tech game held greater significance. Michigan had an African American player on the team named Willis Ward, with whom Ford roomed at road games. Well, Georgia Tech knew that Ward was on the team & told Fielding Yost that they would not play if Ward participated. Here's more from the Bentley Museum website:
At least as early as the fall of 1933, the Georgia Tech athletic director had written to Yost asking what was going to be done about Ward, asserting that his team would not take the field if Ward was playing for Michigan. As game day neared the issue became a major controversy on campus and mass meetings and demonstrations were held. Some students and faculty demanded that either Ward must play or the game should be canceled. Others argued that, as host team, Michigan must respect southern customs and hold Ward out of the game. Yost and Kipke did not publicly reveal their decision beforehand, but when kick-off came, Ward was not in uniform.

The incident left Ward angry and, in his view, it demoralized the team for the rest of the season. Ward recalled that [Gerald] Ford considered quitting the team in protest. The team finished with a 1-9 record, the only win coming against Georgia Tech. In later interviews Ward said the episode left him disillusioned with sports and sapped his competitive spirit. He took part in the Olympic trials, but having lost the burning ambition to win, Ward, in his own words, did not train to his peak and failed to make the U.S. team. Willis Ward went on to earn a law degree and had a distinguished career as a lawyer and judge.
In 1999 Ford wrote an New York Times Op-Ed piece defending U of M's affirmative action admissions policy saying, "Do we really want to risk turning back the clock to an ear when the Willis Wards were isolated and penalized for the color of their skin, their economic standing or national ancestry?". Here's a photo of the two together in the 1934 team photo: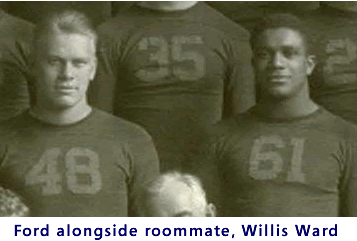 [Ed. Here's more on the campus controversy, published in May 2009].
Another interesting item from 1934 that Larcom discussed was the trip to Minnesota to battle for the Little Brown Jug. The Gophers crushed Ford and the Wolverines 34-0 in Minnesota, but the game and the trip made a great impression on Ford. He was touched by the students and fans that were waiting for the team when they returned from the trip the following Sunday morning, despite the big loss and the miserable season. Ford called it a "demonstration of loyalty that I'm sure none of us has forgotten." Coincidentally there's a cool piece of memorabilia from that 1934 Minnesota game up for auction right now on eBay: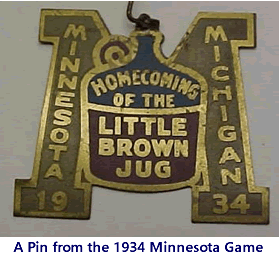 Finally, 1934 was the year that Ohio State started its tradition of giving a charm depicting a pair of gold pants to each player if the Buckeyes defeated Michigan. Funny, that these frequently show up on eBay. Anyway, here's the explanation of the history of the gold pants from the official Buckeye website:
Gold Pants
A gold charm replica of a pair of football pants is given to players and coaches following wins over Michigan. The tradition started in 1934 when first-year coach Francis Schmidt told those wondering how OSU would fare with its nemesis from Ann Arbor: "They put their pants on one leg at a time just like everybody else." Schmidt's Buckeyes then went and defeated Michigan four-consecutive times, all by shutout.
According to the folks that represent his library in Grand Rapids, Ford turned down offers to play for the Detroit Lions and Green Bay Packers after his senior season. He instead went on to coach boxing and football at Yale while waiting to gain entry to law school.
Lloyd Carr spoke on the football program's behalf and offered these nice words for our former president, worth repeating here:
"Our nation has lost a a great American and a President who decided at the most critical time, a path that was unselfish and in the best interest of his country; truly a profile in courage. At Michigan we have lost a legendary figure who represented the highest ideals of the 'Michigan Man' — a gentleman who was integrity personified. We love him and we will miss him, but we are compensated by the knowledge that his spirit and his love for the University of Michigan will endure. On behalf of the Michigan football team, I want to extend our condolences to the Ford family."
The Ann Arbor News did a great job pulling together today's edition and the content on Ford, covering more than six full pages.