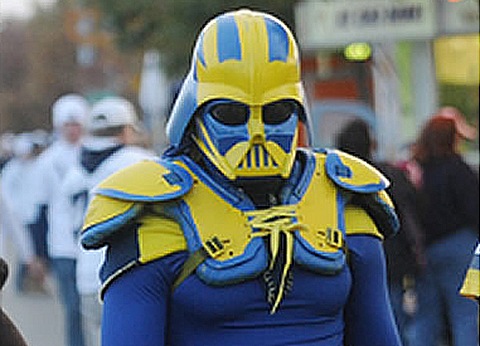 "Perhaps I can find new ways to motivate them.  But first, more donuts and cider."  Melanie Maxwell – A2.com
As you might expect, callers to the morning shows on WTKA were hammering away at Rich Rod and Greg Robinson.  Even omnipresent caller and ardent Rich Rod supporter Linda from Grand Blanc effectively called for a coaching change.
I hate going through this game of classifying Michigan fans, but I think there's a good portion of us that have been out there notsomuch defending Rodriguez, but instead defending him against critics of his offensive philosophy, the unfair treatment of countless incidents in the media and the circumstances that have led to the depleted talent on defense.
Last night twitter was blazing with folks pinning this mess on Greg Robinson, asking for his head with even a few folks wishing Ron English could return, haha.  Sorry, at this point there are no thirdsies for Rich Rod with respect to the defense and the coordinator.   Maybe Gerg has no idea what he's doing, but it doesn't matter, it's on Rodriguez.
As far as the talent, yep, they are young and inexperienced but we're nearly three years in and we can't stop (or beat) marginal Big Ten opponents.  Rodriguez didn't give the defense the same emphasis when he came in and yes, caught several bad breaks along the way.  Now it's too far gone and a complete disaster.
Remember when we used to bitch about a single weakness on defense?  Morgan Trent plays on skates!  (Funny, today Trent picked off Chad Henne.)  Memmmmoooriesss.
When Rodriguez went on his tour to meet alumni after getting hired he asked that we "fly in formation", as in, get behind him and flap along together like migrating geese.   The gaggle is thinning out fast and the lead goose is just about cooked.