Saw this via retweet from @mogblog today, apparently former U-M kicker Jay Feely hit the links today with Detroit born rock icon Alice Cooper.  I was going to ping Feely for a photo but voila, Feely went ahead and posted a shot on his twitter feed from the pro shop at Sweetgrass Golf Club in Harris, MI: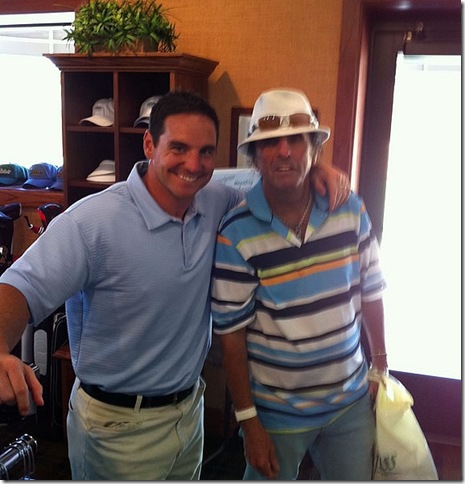 Cooper is an avid golfer, in fact his Wikipedia page dedicated righteous real estate to address this:
Cooper has on several occasions credited golf as having played a major role in helping him to overcome his addiction to alcohol, and has even gone as far to say that when he took up golf, it was a case of replacing one addiction with another. The importance that the game has had in his life is also reflected in the title to his 2007 autobiography, Alice Cooper, Golf Monster.
Coincidentally the topic of golf has actually creeped into these pages and beyond in recent days and months.   Here's a few items that might appeal to Michigan fans and golfers alike:
Follow MVictors on Twitter