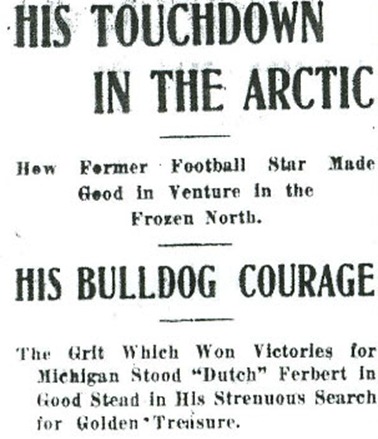 Billings (Montana) Daily Gazette, November 7, 1909
[Ed. In honor of Dutch Ferbert's birthday on July 22 (1873), a repost.  Originally posted  Jan 28, 2012]
Today obviously the head coach of Michigan football team doesn't have to look beyond campus to hit it big.    This hasn't always the case of course, especially in the early days of the program.   While Fielding Yost's contracts compensated him very competitively for the day, it definitely didn't make him a wealthy man.  Yost spent a good part of the year pursuing his private business interests out of town.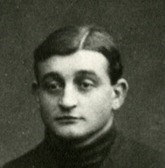 Do you know the story of Gustave "Dutch" Ferbert?  He suited up for the Wolverines in the mid-1890s but most notably he was head coach of the famous 1898 squad that delivered Michigan its first conference title.  The championship-sealing victory over Chicago that year inspired Louis Elbel to compose 'The Victors'.
Ferbert coached one more season but then packed his bags and headed north, hoping to strike it rich in the Klondike.   In 1900 he traveled up to Nome and allegedly told folks he would "return rich or not all all."
Well, there was some question whether he would make it, especially early on.  Thanks to Brian at the Bentley for forwarding this over, apparently from 1902: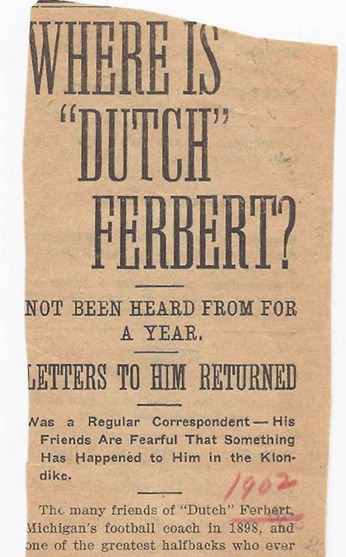 Here's the opening paragraph:
The many friends of "Dutch"" Ferbert, Michigan's football coach in 1898, and one of the greatest halfbacks who ever carried the ball, have been fearful for some time that something has happened to him, but because it is "Dutch" Ferbert they remember his sturdy characteristics and are hoping that word will be received from him that he is safe
Well, he eventually resurfaced and yes, he kept his promise—he returned a rich man.
Thanks to the folks at the Billings Gazette for tracking down this November 7, 1909 story titled, "His Touchdown in the Arctic".   The article describes how he made "a $1,000,000 touchdown"..and briefly recapped his quest:
The former gridiron star first located at Nome, and there the real battle to keep the best from the door began.  He tried prospecting in several districts, but with slim success.  He found work part of the time in restaurants, stores and other places.  This lasted for several years, but never a thought did he have of going back.  He started out to cross the goal line and a kick or two in the jugular from an adverse fate he considered part of the game.

Then came the strike at Deering City, and Ferbert was one of the first to hit the trail with a pack.  At the start it proved a "Roaring Camp" all right, but luck was a little shy, and then came the turn and riches in abundance.  He located some of the best claims in the region, panned out more gold than he had ever dreamed and became a bonanza king overnight.
While I'm not sure Dutch held onto his dough through the years, it's still a great piece of U-M coaching lore.
Follow MVictors on Twitter  or find MVictors on Facebook