On this day, a big happy birthday to the great #1 Anthony Carter. WolverineHistorian tribute if you need it:
Back in July mgo-Ace Anbender was clearly inspired by AC's brilliance and took it one frame at a time with AC. It's worth a read if you missed that.
Want a piece of Carter memorabilia? You can find tons on eBay highlighted by this beauty – Carter's 'Victors Club' trophy from 1982.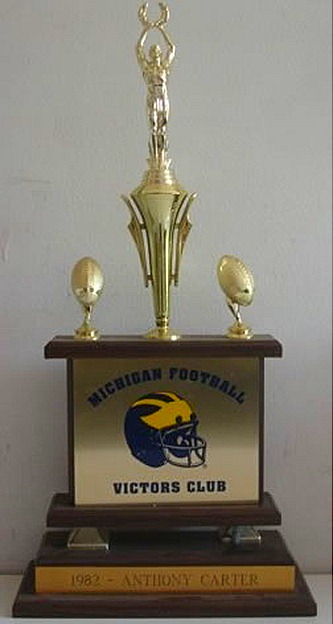 No, that's not an award for the current day Victors Club tied to athletics fundraising…otherwise they'd have to give something the size of the Victors Classic rack to Steve Ross. Back in the Bo era they used the Victors Club to recognize standout players. In old practice videos you can see players wearing special 'Victors Club' mesh jerseys. Apparently, for whatever reason, they used to accompany such moments with a sizable trophy and we know that Moeller continued this practice for a while–recall Jon Vaughn's Offensive Hustler prize from 1990 that showed up on eBay in 2010.
Happy Birthday AC!
Follow MVictors on Twitter