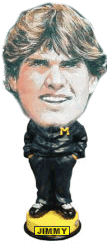 Jim Harbaugh on ESPN radio with Colin Cowherd this afternoon.  Here's the somewhat relevant portion on the coaching talk:
Harbaugh on Cowherd ESPN
Play Now
|
Play in Popup
|
Download
–
* Talked about and praised QB Andrew Luck.  He compared him to his wife…"perfect".
* "Coaching's the next best thing"..to playing.
* Is Stanford big enough for Jim Harbaugh: "No question it's big enough"
* On addressing the coaching rumors: Harbaugh: "I'm not one of those guys that spends any time on the blogosphere." bah!    Then he won't mind my Jimmy bobblehead.
* He's just focusing on his dad's advice: "Just coach the team".