Check out this close up of Desmond at the GameDay desk from this morning: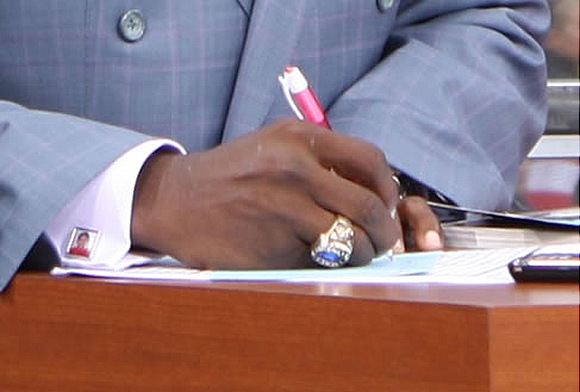 First off, you've gotta love the custom cufflinks.  The one on his right cuff appears to be a photo of one of his sons.  (I assume the left features another son).  Love that.
Next, is the ring.  My instincts tell me that that's not a Michigan ring, rather, it's a College Hall of Fame ring.  We had this discussion a few years back when I discussed the band Dan Dierdorf donned on a 2008 CBS broadcast: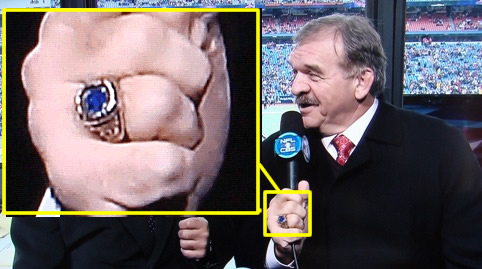 Reader David, who seemed to be in the know, asserted that the ring I spotted was indeed Dierdorf's CHOF ring:
Actually he wears one ring on each hand. On his right hand is his College Football Hall of Fame ring and on the left hand is his Pro Football Hall of Fame ring. Both have blue stones, but the one in the picture (right hand) is his College Hall of Fame ring which has a larger blue stone.
I doubt I'll see Desmond buzzing around in the press box but if I do, I'll get on that.
As far as the pink pen, discuss amongst yourselves.
Related:
Follow MVictors on Twitter