With Colorado visiting Saturday and their choice to supposedly wear 1994 throwback jerseys, I'll revisit the top moments where the Wolverine faithful were punched in their cotton pickin' giblets.   The focus is on specific devastating moments in games, not necessarily the totality of the game.
First off, sadly enough and while certainly devastating, here are the honorable miserable mention moments:
2001 Spartan Bob stops Clock/TD pass to TJ Duckett (East Lansing vs. MSU)
1990 Desmond mugging (Ann Arbor vs. MSU)
1973 Mike Lantry misses 44 yard FG (Ann Arbor vs. OSU)
2013 Failed/intercepted 2 point conversion to win The Game (Ann Arbor vs. OSU)
1980 Harry Oliver nails 51-yard FG into the suddenly still wind (South Bend vs. Notre Dame)  HT: John Kryk
#6 'The Catch' (vs. Colorado @ Michigan Stadium, 1994)
The Moment:  With six seconds remaining down 26-21, Colorado's Kordell Stewart hurls the pigskin 70 yards and finds Michael Westbrook: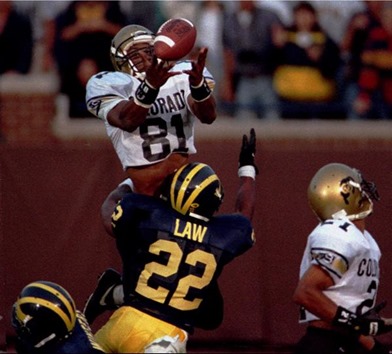 Why it sucked so hard:  It was a big game, at home, and Michigan seemingly had the game sealed.
Why it might not be as bad as (see #1):  While Michigan seemingly had the game sealed, Colorado still had the ball in their hands.  As brutal as that was, Hail Mary's happen.  They even have a name for them.  Stewart made a perfect pass.
#5 The conclusion of THE HORROR (vs. Appalachian State @ Michigan Stadium, 2007)
The Moment:  Down two, Michigan's field goal attempt to win the game is blocked.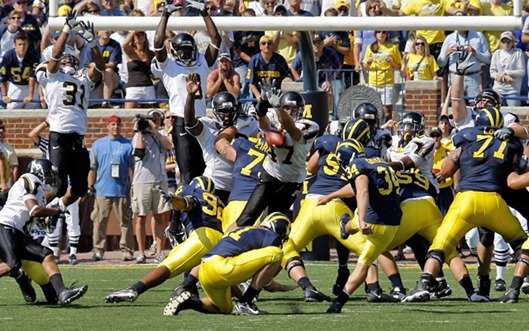 Why it sucked so hard:  This moment was devastating as we suddenly had a chance to save this game – and – no.  We became the laughingstock of the college football world.  The biggest upset in CFB history.  Pretty much ruined what was supposed to be a championship season.
Why it might not be as bad (see #1):  That sucked hard for all those reasons but you have to accept that Appalachian State, at the time, was a solid football team that lined up and beat Michigan over the entire 60 minutes.
#4 "The Wretched Blunder" (vs. Chicago @ Marshall Field Chicago, 1905)
The Moment:  Tied 0-0 with five minutes remaining, U-M's Denny Clark fields a punt in the end zone and instead of downing it for a touchback, starts to take it out.  He quickly realizes his error and but it's too late- he is driven back into the endzone for a safety.  [Read Stagg vs. Yost !]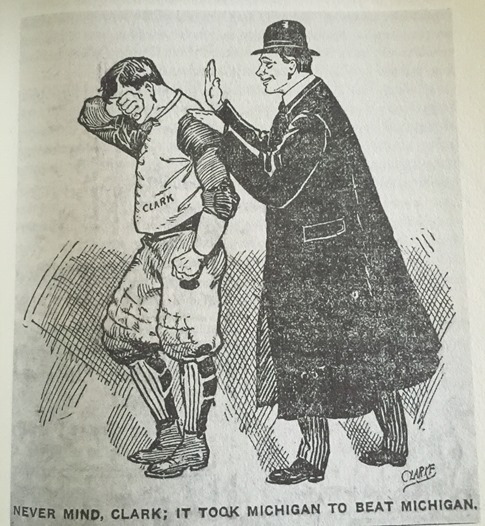 Why it sucked so hard:  That safety resulted in the lone points of the game.  Play is dubbed, "The Wretched Blunder".  Michigan lost 2-0 to its biggest rival (in Chicago, and for Yost, in Stagg) in the final game of the season and this ended Yost's 56-game unbeaten streak since his arrival in Ann Arbor.  Clark never recovered from the incident and sadly took his own life in 1932 (a note left for his wife mentioned the 1905 play).
Why it might not be as bad (see #1)  OK it's close, but following the safety Michigan got the ball back with a chance to win the game.  As Kryk describes in Stagg vs. Yost, Michigan pulled out all the trick plays – but Stagg's Maroons stopped them and held on.
#3 Lantry "Miss" (vs. Ohio State @ Ohio Stadium, 1974)
The Moment:  With 18 seconds to go, #3 ranked and undefeated Michigan trails #4 Ohio State 12-10.  Mike Lantry's 33 yard kick veers left and the officials call it no good.  Many to this day swear it was inside the upright.
Why it sucked so hard:  First off, it was Woody and Ohio State. Second, Lantry missed a big one in 1973 that could have broke the epic 10-10 tie.  Third, Michigan could have been in line for a national championship
Why it might not be as bad (see #1): Also close.  This one hurt.   But people understand the pressure involved, and have a ton of respect for Super Toe.  Even if it was a bad call no one argues it was close.  And as special teams errors this is bad but not as disastrous as #1.
#2 Webber Timeout (vs. North Carolina @ The Superdome, New Orleans, 1993)
The Moment:  In the final seconds of the NCAA title game and Michigan down 2, Webber dribbles to the U-M bench and calls the timeout that U-M does not have: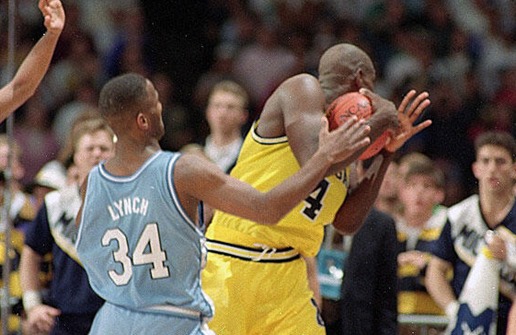 Why it sucked so hard:  Obviously that moment ended the game and thus the entire college basketball season. The much-hyped Fab 5 era came to a devastating end in that moment.
Why it might not be as bad as that: OK, it's also very close given what was on the line (everything) but Michigan was still trailing UNC by 2 at the time.  And FWIW Webber probably traveled anyway just before this.
#1:  arghhh.  Sorry, this is still the worst moment (again, not the totality of the stakes involved) – the confluence of things that happened to swap the result – you can't beat this one: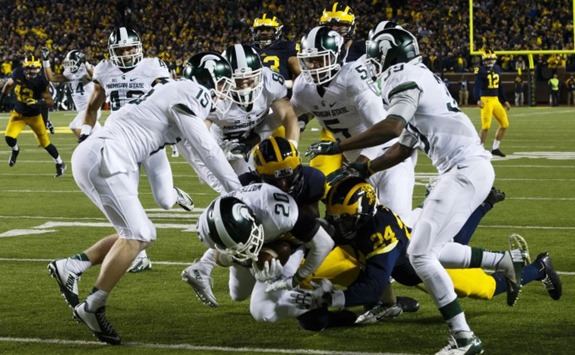 Follow MVictors on Twitter