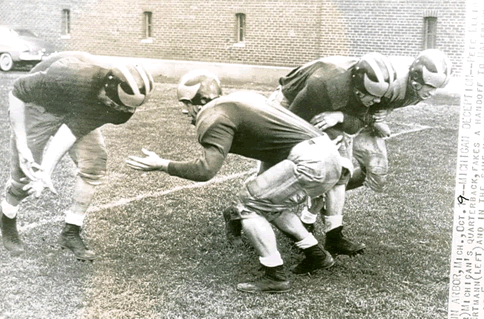 Slight of hand by Pete Elliott as they prepare for the Gophers
I was looking for this, here you go via The Hoover Street Rag:
* Pete Elliott, 1945-48 Bump Elliott's brother, a QB. Later head coach at Nebraska, Cal, and Illinois and a College Football Hall of Fame inductee in 1994.
* Ron Simpkins, 1976-79 A 1979 consensus All-American linebacker, Simpkins posted 150+ tackles in three consecutive seasons, including a mind-boggling 174 in '78 and another 168 the year after.
* Dick Caldarazzo, 1968-69 Caldarazzo only lettered two years, but he blocked for Ron Johnson (Original Recipe) as he broke most of Michigan's rushing records and helped Michigan to its first Big Ten title in five years.
That photo above? I just bought it a couple weeks ago on eBay. It's Pete Elliott at practice before the Minnesota game in 1948, showing a little deception with the rock. Here's a larger size photo.
Full release from mgoblue.com.