[Ed. In honor of national signing day 2014, Sap is back with a little story of how Bo nabbed the nation's #1 quarterback.]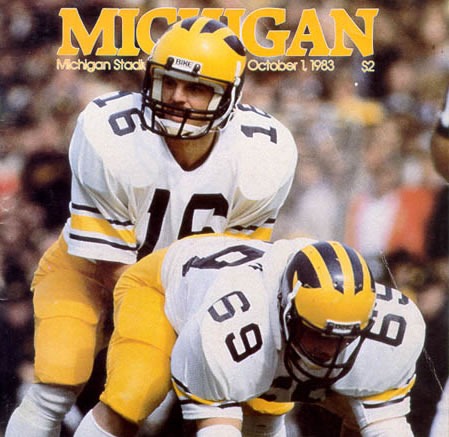 Guest post by Steve "Dr. Sap" Sapardanis
A few hours ago one of the nation's top recruits, Jabrill Peppers, sent over his LOI and Michigan fans from coast to coast rejoiced.  Did you know there was a time when Bo Schembechler landed the nation's top high school quarterback?
This quarterback was so talented (4.5 speed and a cannon for an arm) that every major college wanted him.   By most accounts he was the #2 overall high school recruit in the entire country.  But there was just one problem – he wasn't exactly sold on going to Michigan.
Bill McCartney was assigned the recruiting responsibility to bring him to Ann Arbor but the QB had his mind made up – he was going to go to (/gasp!) Michigan State. The Spartans had just beaten Bo a few years earlier in Michigan Stadium and MSU's passing scheme was exactly the type of offense this recruit wanted to play in.
When Coach Mac reported back to Bo that he couldn't change this prized recruit's mind, The General realized it was time for this QB to have a face to face with Coach Schembechler.   Bo went to this player's high school and waited for him in a room while the Principal went and pulled this student-athlete from his class.
Finally, Bo had him right where he wanted him.
Bo saw the talent, the speed, the arm – this kid had it all. The dual-threat possibilities raced through Bo's option-offense-oriented mind.  But when the kid told Bo he wanted to go to MSU because he wanted to throw the ball, Bo knew he was losing him.
Bo promised the phenom that he could play both football AND baseball at Michigan. Oh, ya – the kid was a great baseball player as well.
But nope.  'East Lansing here I come.' was all this recruit was thinking.
Then Schembechler did something that finally made this QB realize how badly the coach wanted him at Michigan.  Bo got on his hands and knees and CRAWLED across the table and told this kid, as only The General could, that he was going to go to MICHIGAN!
And just like that, Steve Smith from Grand Blanc, MI decided to attend U-M on a football scholarship in 1980.  The #1 high school recruit that year?  Some running back named Herschel Walker: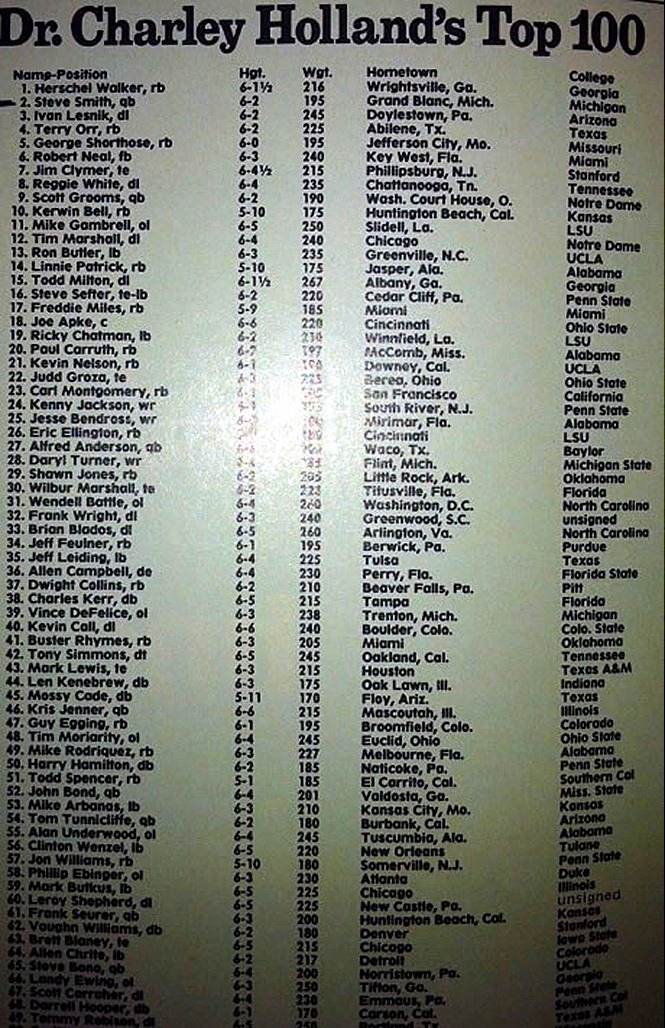 A list of future college HOF'ers for sure, lol.  #41 is on the all-time all-football all-name team forever though.
—————————————————————
Great stuff Sap!
P.S. Here's a favorite recruiting story of mine told to me back in 2009 by the great Mark Messner:
MVictors: So you weren't a big U-M guy, how did Michigan get into the picture?
Mark Messner: I came back from my visit to UCLA, it was late December 1984.   My folks picked me up at the airport and I told them on the way home that I was going to be a Bruin.  I couldn't imagine why I wouldn't go there.  My parents were both happy and sad.  UCLA had the most beautiful campus I had ever seen.  People on campus are lying around in bathing suits on manicured lawns studying.  I couldn't imagine why I wouldn't go there.

But Coach Moeller and Coach Bo knew UCLA was my last visit.  So when my parents and I pulled up the house on the way back from the airport, there was this Delta 88 by the side of the driveway.  It was like 9 o'clock at night and getting dark.  The doors of the car opened up and out stepped Moeller and Bo.

Bo walks over, hands me a tape and says [Messner in perfect Bo voice]: "You're a Michigan man and you belong at Michigan."  That was it.  He didn't come in the house, they just took off.  I couldn't believe he came back up there.

I was in bed that night and I was thinking about the big picture, because now the recruiting was over.  I told [Coach Terry] Donahue before I left UCLA that I was a Bruin.  I didn't sign anything, but I did tell him that I couldn't see how I'm not a Bruin.

My dad was fighting cancer at the time.  I was thinking, "Wow, I've got Michigan in my backyard.  How many games might my dad be able to see at UCLA?"  So I did the very manly thing as a young adult: I called in the middle of the night and told UCLA I wasn't coming knowing there'd be no way they'd answer the phone [laughs].   In the morning I told my mom and dad that I formalized everything and told them I'd be a Wolverine.  My mom, being a mom, said, "I thought they were called Bruins."  I told her, "Mom, I'm going to Michigan."
Follow MVictors on Twitter