One headline in the November 1, 1903 Sunday edition of the Minneapolis Tribune declared, "VICTORY, THOUGH THE SCORE IS TIED."  Further down toward the fold it blared, "YOST AND MICHIGAN PRACTICALLY BEATEN."
It was that fierce battle, played Saturday October 31, 1903, that spawned the greatest of the college football rivalry trophies.  At the direction of coach Fielding Yost, Michigan's student manager Tommy Roberts purchased a five gallon jug that was left behind in the aftermath of this epic clash that served as first, a Gopher souvenir, and later as the trophy that's been presented to the winner since 1909.
The Tribune described Yost's Michigan team, winners of 29 straight heading into that game, this way:
Her lineman were giants on the attack, and were adamant on defense.  Her backs were great battering rams, with the speed of the wind, guided by an intelligence in play almost superhuman.

Her team work was near perfection, and the eleven representatives of the maize and blue were like some powerful machine, continuously in motion.
That line is a nod to Yost's revolutionary tendency to speed up the pace of play, earning him the famous tag 'Hurry Up'.
Now, we know the game ended in a 6-6 tie when the teams exchanged touchdowns, then worth 5 points each, in the second half.  Michigan took the lead when the great Wolverine back Willie Heston found the end zone first midway through the half.  The Gophers tied the score in the final minutes of the game and added the extra point to secure the tie.  Depending on who you read, the game was either called with "a few seconds" remaining on the clock (Tribune), or two minutes left to go (Detroit Free Press).  Afterwards thousands of Gopher fans stormed the field to celebrate the game-tying tally.
Naturally the Tribune saved a few good lines for the hometown victors tie-ers:
When [All-American tackle Fred] Schacht made his two gains of four yards each, the of the maize and blue went to pieces.  They could not stand it.

Michigan was fighting against eleven madmen, and the madmen won.
Century old Chart
You've got to love this—the Tribune even included a diagrammed play chart from the 1903 game on the front page.  Click to supersize it, it's pretty cool after you figure out the key: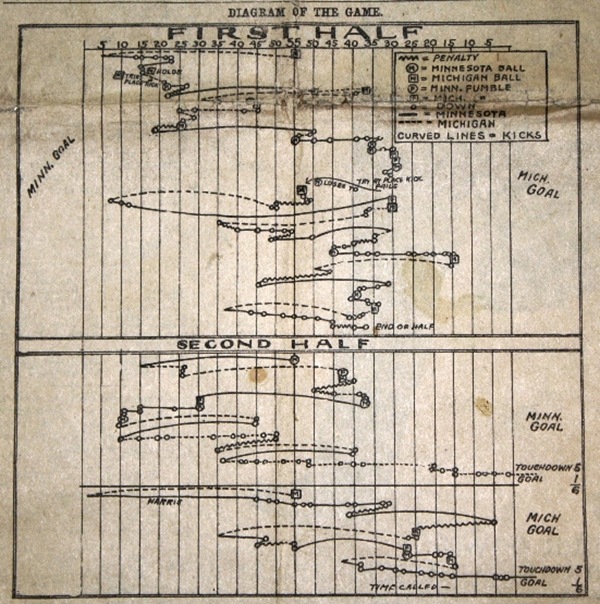 What happened next is of course the stuff of Little Brown Jug Lore.
Follow MVictors on Twitter