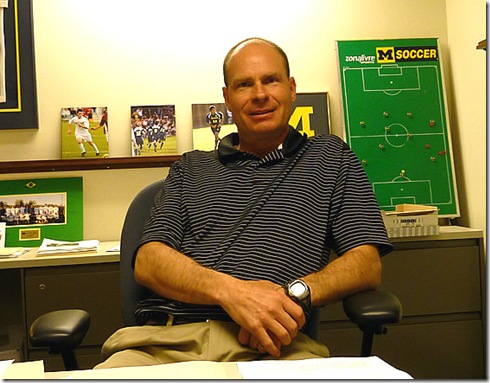 I recently had the opportunity to chat with men's soccer head coach Steve Burns.  The full interview will hit the pages of Scout.com and GoBlueWolverine Magazine later on this month, but I wanted to share a portion here.
Burns, an '89 U-M grad (Aeronautical Engineering), played in the late 80s when soccer had Club status at U-M, and he's held the coaching reins since '92 including the last 10 years that the team's been a varsity program on campus.
We discussed a variety of topics including the 2010 squad, recruting, the new stadium, the influence of Red Berenson and the hockey program and an upcoming event to aid the family of a former teammate:
MVictors: Football fans are excited about the dedication of the renovated Big House in September, but arguably the biggest change on the athletic campus this fall will be the new soccer stadium. How big of a deal is this to you and this program?
Burns: It's massive. Here we are now going into our eleventh year and it's really just recently that we've had these beautiful practice fields and competition fields and now, a $6 million stadium being built. I was out there today and it's magnificent.  It's just magnificent.  It'll put the fans right up on top of the game and it'll be an intimidating place for opponents to come in and play.
MVictors:  How much will the new stadium help in bringing the top talent to Ann Arbor?
Burns: The top kids in the country want three things. They want a place that has a history of putting players in the pros. They're looking for a school that has high level facilities with fans that care about the team.  And finally, they're looking for a place with a history of winning championships. We don't have a history of winning championships right now.  We haven't won a Big Ten title or a national championship yet and we're going into our 11th season.  We've got the facilities and we've got a history of putting players in the pros, that's two of the three things.  And when they come out and see these facilities, they just get knocked over by them. I think what you'll hear when the stadium is complete, which will be early August, is Michigan mentioned with the top three college soccer stadiums in the country. It'll be Michigan, Virginia and Creighton…in no particular order.
MVictors:  You're seated just outside the door from Red Berenson.  Is there any piece of advice that Red's given that's stuck out?
Burns: [Laughs]. Well, Red gave me this. [Burns grabs a small frame from his desk – it reads 'Show me a good loser and I'll show you a loser'.]   That sums up how it is around here. We're about winning.  And there's a right way to win and certainly Red has a formula for the right way to win. We're trying to replicate that the best we can.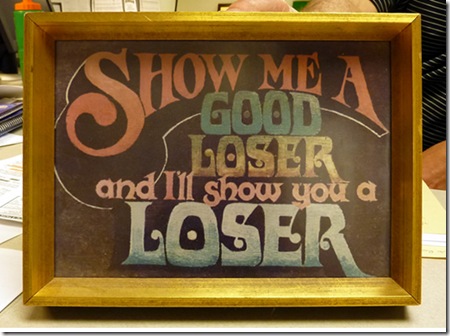 MVictors:  What's your message to fans heading into to next season–what's the best way for them to support the Men's soccer program?
Burns: I think it's about support at games, bringing a high level of excitement, losing inhibitions and helping us create an intimidating environment for our opponents.  Similar to what you find here at Yost Ice Arena, minus the obscenities [laughs].
MVictors:  I understand the Soccer program is organizing a golf outing this summer that will benefit the family of Jonas Saunders, a former Club [pre-varsity] team member who passed away this year.  What can you tell me about the outing?
Burns: Because I cut my teeth with the Club and played for the Club, I feel really endeared to the former players in helping me get going in coaching.  From day one we wrapped all of those Club soccer athletes into our Alumni base and I kept in touch with guys going back to 1981.
I see Jonas as someone that helped Michigan soccer, in fact he sent an email a couple months before he died with a donation and he talked a bit about an upcoming game against Michigan State. So we rallied all the alumni around the fact that here was a fellow teammate who left four little girls and a wife.  We decided we'd help out anyway we can. We realized we could raise some money for the family in the form of this golf outing, so we put it together.  We're going to make a significant donation to the kids' education fund.
—————————————————————————————-
Here are more details on the Men's soccer Golf Event event, and it's open to anyone who'd like to help out:
Click here for a flier with all the details, here's a summary:
Date: Friday June 11, 2010, starting at 11am with a 1pm shotgun start.
Location: Northville Hills Golf Club – 15565 Bay Hill Drive, Northville MI 48167
Entry Fee:  $100/person or $400/team.  Also accepting hole sponsorships and donations.
Checks to: Michigan Men's Soccer, 1000 S. State Street, Ann Arbor, MI 48104

For registration, hole sponsorships or for donations, click here