After watching a Cutter cut up the Michigan secondary all day, I looked for five star freshman Justin Turner on the sideline.  I spotted him standing on one of those benches behind the team next to the back-up kicker and other guys that only have their helmets because it came with the rest of the uniform: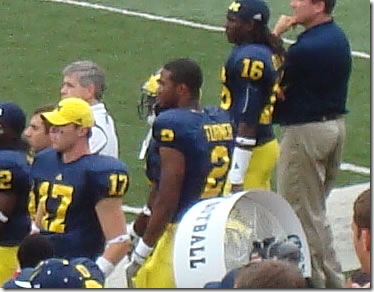 Man, you'd like to see some help back there but obviously he'd be on the field if he were ready.  Sadly the bench surfing only shows me he's really not close.
That said, Rich Rodriguez hasn't thrown in the towel yet on Turner's status for this season hinting he might see some time against State or Iowa:
But I wouldn't be surprised if there are a couple more freshmen that haven't played that may still get in the mix here in the next couple weeks just simply because of the way the injuries happen and no open dates.

"(Justin) Turner is one, for example, and I'm trying to think — we have some outstanding freshman offensive linemen. But there's so much for them to learn.
Other stuff:
Two things I normally don't get into are a) predictions and b) postgame grades.  But these are noteworthy:
Props to former TE/QB Andy Mignery and WTKA 1050AM "Monday Morning Quaterback" who nailed it on his prediction for the game (he had both teams in the 30s with Michigan winning) on the pre-game show from the Bud Light Victors Lounge. 
Dave Birkett over at AnnArbor.com gave Michigan's special teams a 'C+' grade.  Scratching my head on that one.  Mesko was phenomenal, kick-offs were deep, coverage was pretty good, punts were handled nicely by Mathews, Stonum was deadly on kick-off returns.  At worst a 'B+', at best an 'A'.