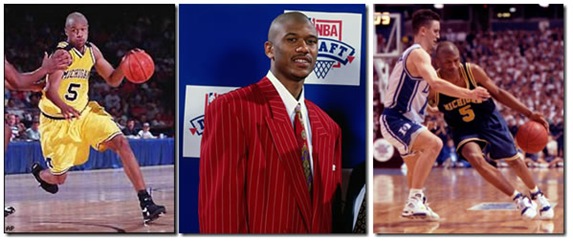 Jalen Rose joined Michigan hoops radio voice and WDFN morning show host Matt Shepard on Shep, Shave, and Shower on 1130AM this morning:
Jalen Rose on WDFN
Play Now
|
Play in Popup
|
Download
They talked quite a bit about the legacy and potential reinstatement of the Fab 5.  Jalen clearly thinks the F4 banners need to be restored and feels a jersey or two should be retired.  ESPN has an extensive documentary on the controversial quintet coming up on March 13 at 9am.  You can preview some of the clips here HT to Jeff Papworth.
One historical nitpick: Jalen says a key piece in restoring the Fab Five back to Michigan will be restoring their Final 4 banners.  He adds that the Fab 5 had were the team "that helped Michigan get to two of its three final appearances ever."  
Of course Michigan was also in the 1965 and 1976 NCAA finals, losing to UCLA and undefeated Indiana respectively.
You can catch all of the WDFN podcasts here.