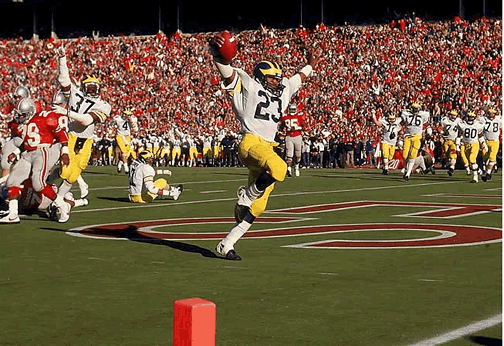 Photographed by: Chuck Solomon/SI 
Jamie Morris dialed into Sam and Ira on WTKA 1050AM this morning and explained his call into a Columbus sports radio station Wednesday.
Morris confirmed he is "110 percent behind Rich Rodriguez," and, explained why he did the call and his frustration with some of the questions.  He also offered up a few keys to The Game, here's the audio clip:
Jamie 11-20
Play Now
|
Play in Popup
|
Download
–
My two cents on one item.   You can question a lot of things about his interview on the Columbus station, whether he should have even done it or answered some of the questions or answered them the way he did…but you can't question his loyalty to Michigan.   He's absolutely loyal to Michigan and I never thought that was a part of any of this.   I know a lot of people have reacted to this on the boards (and on this site), but whatever Jamie thinks about Rodriguez or Harbaugh or whatever, he's 100% loyal to Michigan.
Check out the rest of the WTKA podcasts here.