[Ed. What the heck on the even of the opener and #4's debut a repost. Dr. Sap gives you a primer on Jim Harbaugh's greatest moments as a Wolverine!]
A guest post by Steve "Dr. Sap" Sapardanis
#5: 1984 Miami (FL) – Jim Harbaugh's first start as a Michigan Wolverine would come against the #1-ranked, defending National Champion Miami Hurricanes and he didn't disappoint. Wolverine fans, myself included, had long felt that the maize and blue lacked one thing on offense for a few years – a tall, pocket-passing QB, ideally from California. That finally happened with the Palo Alto, CA 6-3, 202 pound Harbaugh.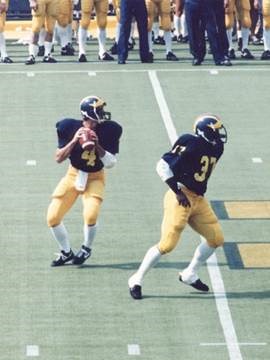 Having heard that he had attended a high school passing camp with John Elway as his instructor, sealed the deal for me – Harbs was going to be the next starting QB in my opinion and his first start was highly anticipated by many. His first two passes against Miami – an out pattern to Vince Bean for 11 yards and another to Steve Johnson for 16 yards – showed off his strong arm, much to the delight of the Michigan Stadium crowd, as Michigan went on to win, 22-14. It was an impressive victory for the Wolverines and a great start for the new QB from California.
#4: 1985 Notre Dame – Remembering how Michigan finished the 1984 season at 6-6, not many gave U-M a chance in the season opener against Notre Dame in 1985. It was a statement game for both Michigan and its quarterback. Would the Wolverines bounce back with another 10-win season?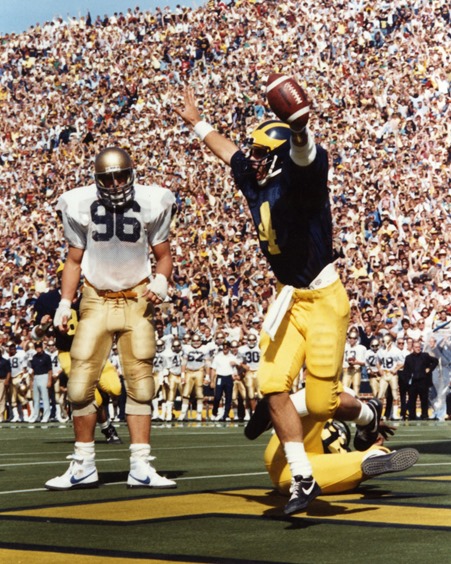 Would their quarterback return to form after breaking his arm a year earlier? A strong defense and solid ground game would power the maize and blue to the victory, and while Harbaugh didn't light up the scoreboard with his passing, he was effective enough through the air to get the win, 20-12. His 3rd quarter touchdown on a quarterback draw and his ensuing endzone celebration put an exclamation point on the victory – Michigan and Harbaugh were back.
#3 1985 Ohio State – With Iowa having all but wrapped up the Rose Bowl bid a few weeks earlier with a one point win over Michigan, the Wolverines and Buckeyes were playing for Fiesta & Cotton Bowl bids respectively.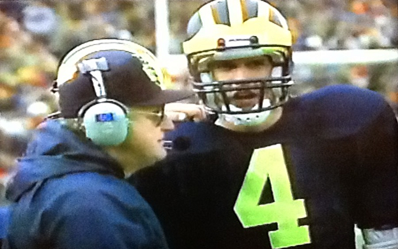 Not quite the same, but the chips were still high and Harbaugh was clutch throughout the game – particularly on 3rd down. Michigan's QB would finish the game 16 of 19 for 230 yards and 3 TD's with 8 of 9 passing on 3rd down for 8 first downs. He topped his clutch performance with a 77-yard touchdown bomb to John Kolesar that put a dagger in the Buckeye hearts once and for all as Michigan won, 27-17.
#2 1986 Notre Dame – Going into the game against the Irish in 1986, Michigan was ranked #1 in some polls but Notre Dame was strutting out their new coach and no one knew what to expect from Lou Holtz and ND.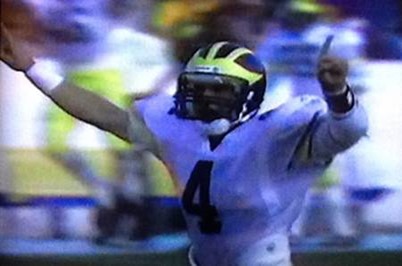 Two moments stood out for me in this game: (1) After Harbaugh floated a perfect 27-yard touch pass to Jamie Morris for a touchdown, the Michigan quarterback flashed the #1 finger as he raced to the endzone to celebrate the score with his teammates. When did Michigan's QB ever proclaim so visibly that they truly were #1? Never. (2) Late in the 4th quarter with the contest still in doubt and facing a critical 3rd & 6 at their own 22 yard-line, Harbaugh lofted a perfect 38-yard pass to Kolesar down the Michigan sideline that got the Wolverines out of trouble. When did Bo EVER throw deep on a critical 3rd & short with the game on the line? Never. Not until #4 arrived. A last-second John Carney field goal miss preserved the 24-23 Michigan victory.
#1 1986 Ohio State – After beating Notre Dame (twice), after beating Ohio State at home, and after winning the Fiesta Bowl, there was still something missing on the Harbaugh resume: a Big Ten Championship and Rose Bowl berth. Both were on the line in 1986. If that wasn't enough pressure, Harbaugh put the bull's-eye squarely on himself after he predicted victory over the Bucks on the Monday before the tilt with OSU.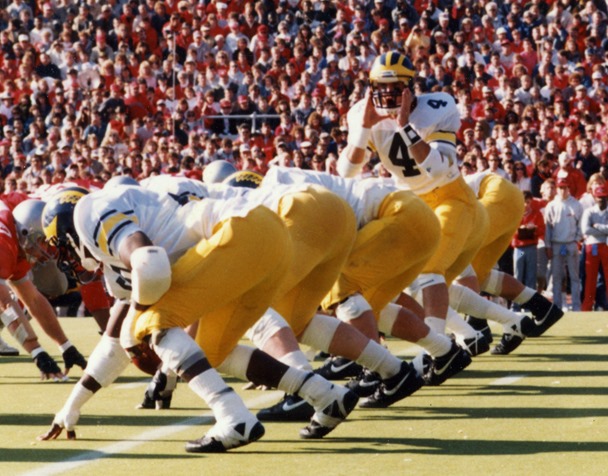 This game was what he dreamed about as a kid emulating his boyhood idol, Rick Leach – beating the Bucks & going to Pasadena – and nothing was going to prevent him from reaching his ultimate goal. Much like he said before his first start in 1984, he was going to do whatever it took to win. In this game it meant overcoming a 11 point deficit in the second half and the raucous crowd in Columbus he so incited with his guarantee. It meant cupping his hands around his facemask to make it appear that his teammates could not hear his audibles that he really wasn't screaming to them. It meant not throwing a touchdown pass the entire game. It meant executing the game plan to perfection. When it was all said and done, Harbaugh & the Wolverines would emerge victorious In Columbus, 26-24. They were Big Ten Champs and would head west to play in the Rose Bowl, just like he dreamed about as a kid.
Other Notables on Harbaugh:
Harbaugh would be the first UM QB to throw for 300 yards in one game (1986 Wisconsin, 1986 Indiana).
#4 was the nation's most efficient passer in 1985 & finished second in 1986.
He would also become the QB to successfully break the Bo threshold of attempting more than 25 passes per game AND WIN – another indication that Michigan had finally devised an effective passing game that could win games.
Harbaugh started his career being late for his first team meeting and held a clipboard that entire 1982 season. He ended his career by hoisting the Big Ten Championship Trophy and singing The Victors in Columbus.
Follow MVictors on Twitter
[Ed. Originally posted December 2014]