Well, we've seen more inspiring efforts but I get that fans are testy.  The stakes have been raised and along with it the expectations.
As far as the quarterback situation, here's the deal.  If I were heading on vacation I wouldn't trust Coach Harbaugh to water my plants and feed my goldfish.  They'd all die.  But I do trust him to handle the quarterback position.   Even if you forget about his track record everywhere else, he's earned your trust with what he did with Jake Rudock – remember that?  So chill, go feed your pet and let Harbaugh handle the QB.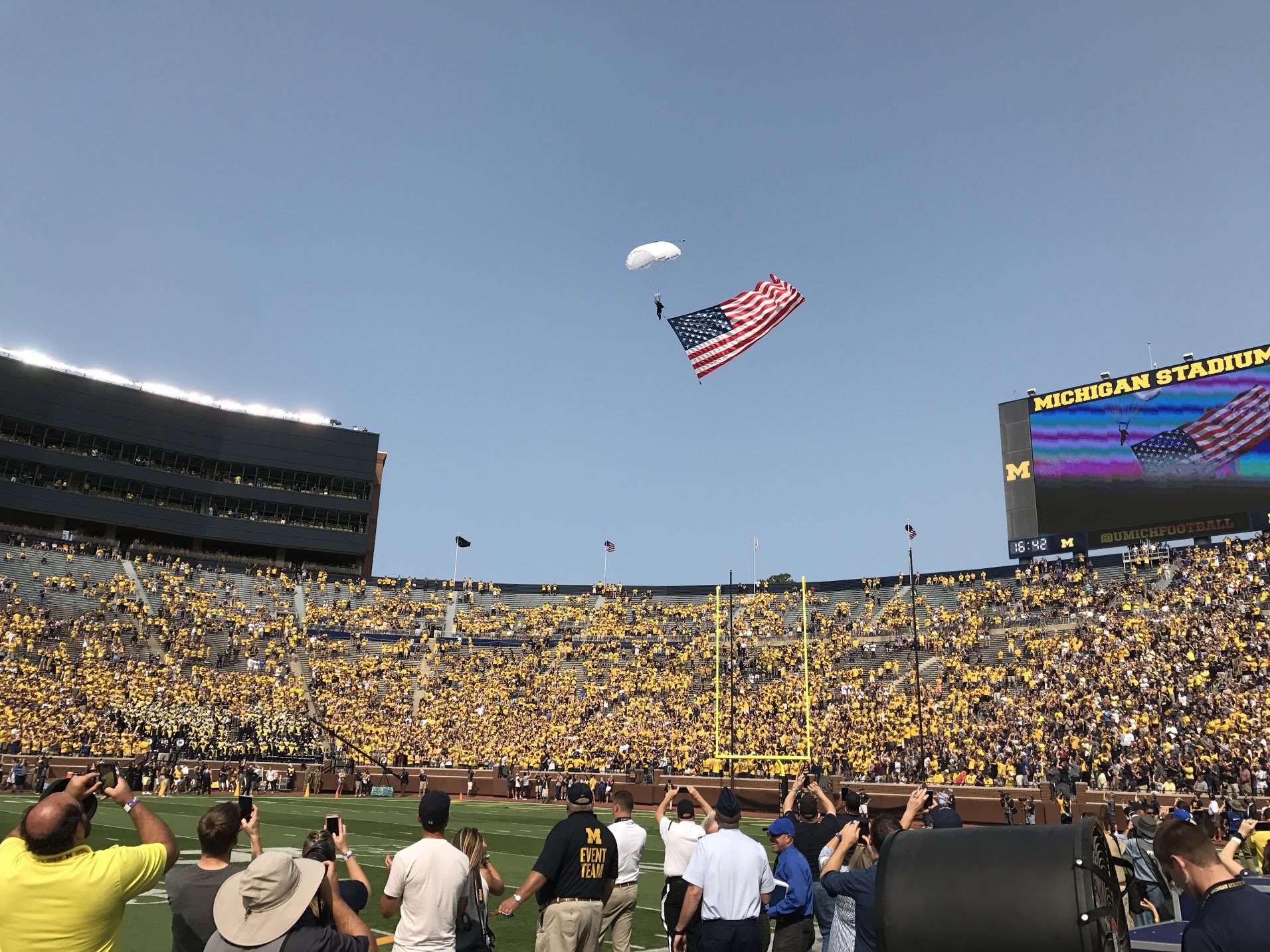 More importantly it was gorgeous out there Saturday, and here are a few sights and sounds:
Jalen & Jansen:  These guys might make a decent local radio show, no?
Congrats to ??'s newest @MSHOF members @JalenRose & Jon Jansen#MichiganMen #GoBlue pic.twitter.com/bWCLAYlrkW

— Michigan Basketball (@umichbball) September 16, 2017
The Fab Fiver and #77 were honored for their recent induction into the Michigan Sports Hall of Fame.  Jalen's teammate Jimmy King was also on prem supporting his man JR5.  BTW – if they have a creepy-looking-mannequin Hall of Fame but here's my nomination: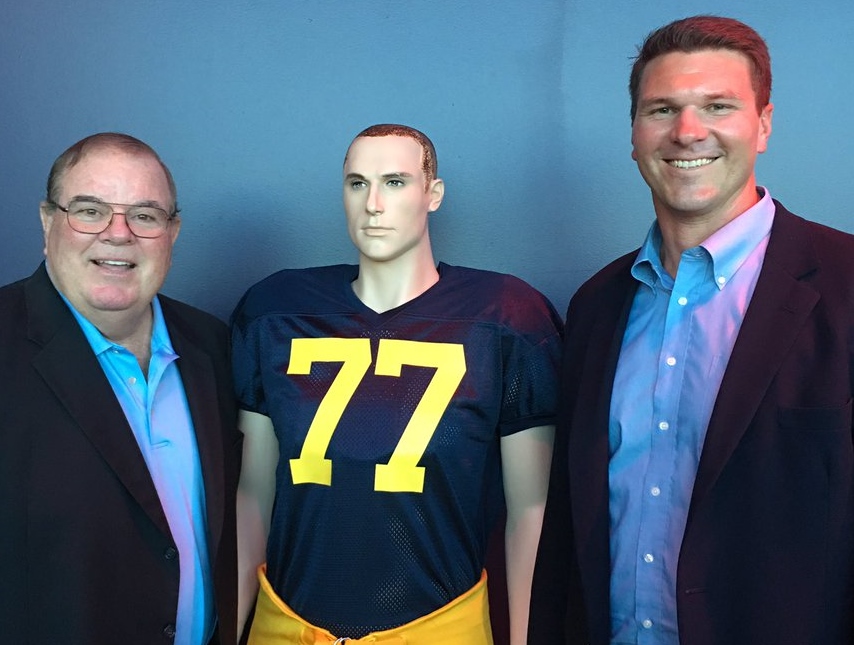 Decals.  Dr. Sap killed it with his helmet stickers this week.
Levert Reverts Back – Here is Caris repping AC with Coach Beilein:
Caris LeVert and Coach Beilein at the game pic.twitter.com/YjlwPQ7gvI

— Dustin Johnston (@DJPhotoVideo) September 16, 2017
Drink each time you hear "Red Zone"   Ahh yes, we'll be hearing that a lot this week.  Thankfully David Brandon's plan to sell the rights and rebrand it "The Autozone Red Zone!" fell flat.   Thankfully Quinn Nordin's leg did not.
On Duty.  AG Bill Schuette is running for governor and was hanging out and talking shop with a few D-list celebs on the sideline before the game.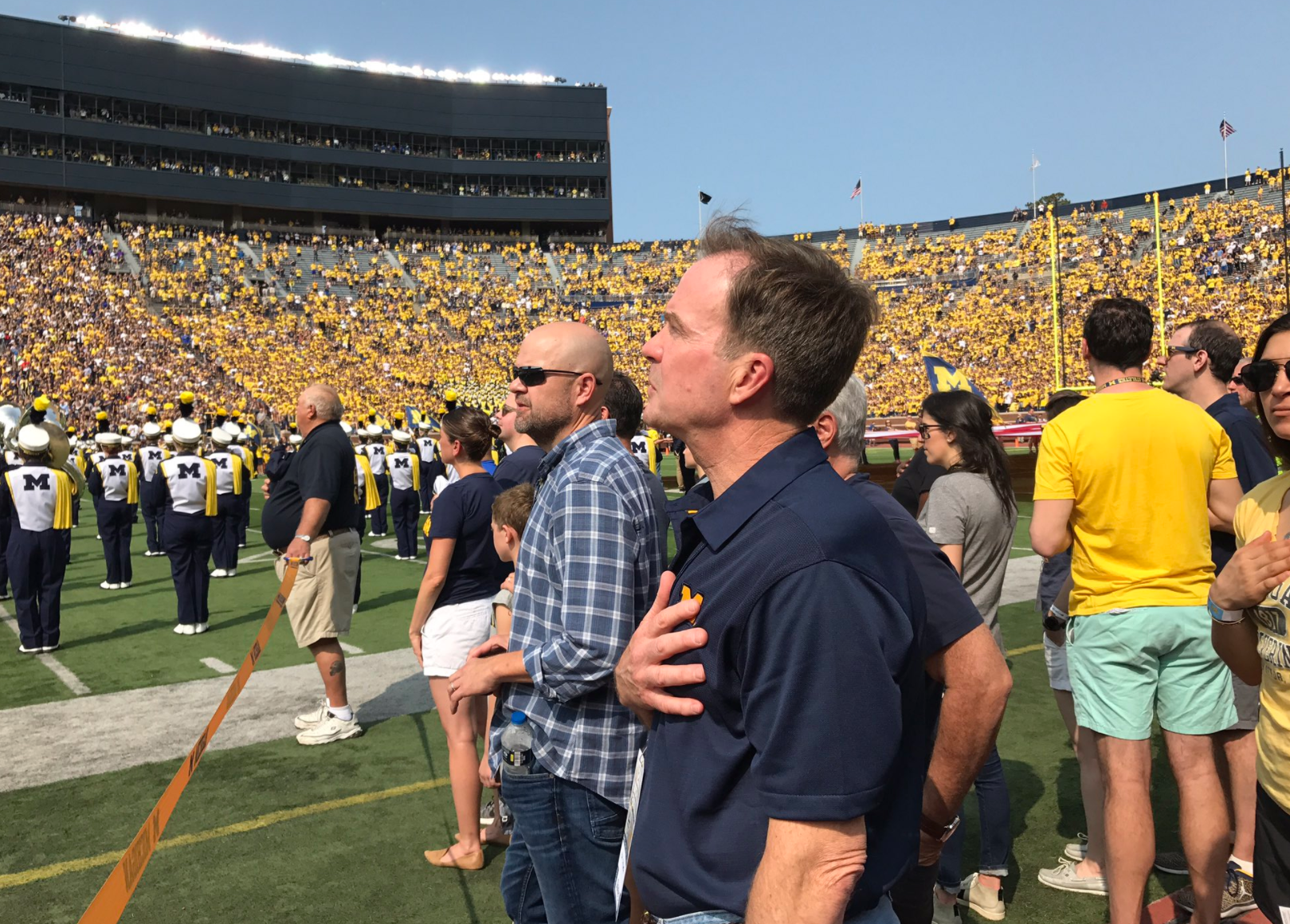 Flannel guy has a water bottle jammed in his left pocket but he's also happy to see you.
Saline Car Wash is hiring:  I spotted a stadium sideline usher asking Mrs. Jim Harbaugh for her credential.  I'm not exactly sure what was said but methinks he quickly recognized his mistake and moved on to harassing helping photographers.
EVERITT RULES!  What, this guy doesn't rule?  He's asking for your help…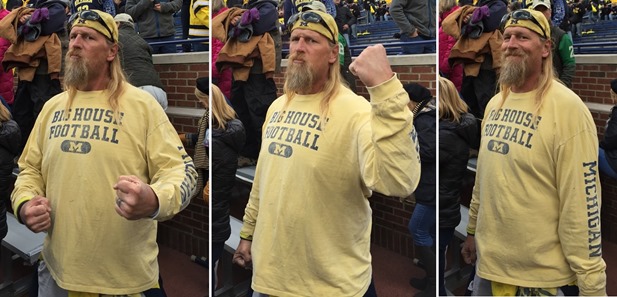 He's a Key West guy, and Irma left the area in a shambles.  We don't even know the extent yet.  Here's his GoFundMe page, he's gathering money for gift cards for the locals.  I'm in – you should too.
Permission to Buzz the Tower(s)  – We've had our share of pregame fly-overs but don't they take on special meaning when we're playing Air Force?
Dropping in
 – Based on what happened at
the BYU game
it appears we had the "A" team out there Saturday:
Band, take the field
– The band stepping into formation from different perspective than you've seen, just perhaps?  Again, this was the 45 year anniversary of the MMB being gender-integrated:
Men, take the field
– I love the James Earl Jones hype video that precedes this:
Follow MVictors on Twitter 
Related: