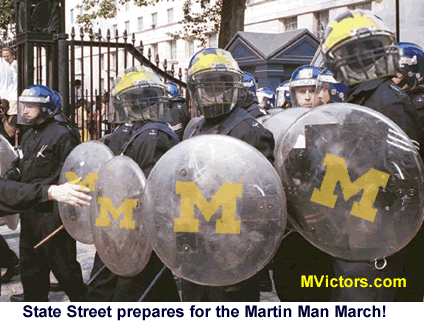 Callers were freaking out on WTKA this morning. The Martin Man March to be scheduled soon. Suggested protest MMMarch route:
– Start at corner of Stadium and Main (outside the Big House)
– Wind down to State Street in front of the athletic administration building
– Head over to Main Street and park it a Conor O'Neils for a pint. Then we'll sort all this out.
I'm working on picket signs. A few suggestions:
1. MARTIN SHORT (sighted)
2. At least we have hoops season
3. Let's get Moeller'd
4. Now I know why the AD hasn't returned my calls.
5. Michigan Sailing Rocks!
6. DeBord DeBlows
7. Hey Ferentz, you're next!
8. Cancel Christmas
9. MSC: Maize doesn't necessarily mean Corn
10. Did Pep make the NBA?
11. New recipe: Les Miles, Less Martin
12. Can Dave Shand come back now?
For context read on why all the former players, alumni, bloggers, and columnists are furious, please see Jim Carty in the Ann Arbor News, and Michael Rosenberg in the Detroit Free Press.