The first round of the 'Death March Madness' tournament (full bracket here – background here). Here's a printable version.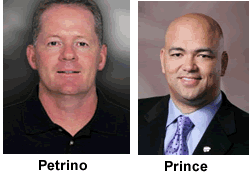 Bobby Petrino (Atlanta Falcons v Ron Prince (Kansas State)
As 5 and 6 seeded players, each is considered a longshot for the position.
How they got on the list: Bobby Petrino elevated the Louisville football program to new heights last season and took his craft to the NFL, where his short tenor has been stunted by the off field activities of Michael Vick. He's a longshot for the candidancy but he's got ties to the Midwest via Lousiville, and they way that team collapsed this year you have to wonder if Petrino is worthy of the hype. Ron Prince is a name you probably haven't heard of but his name has come up by a few pundits as someone that just might be a good candidate. One of a handful of African American head coaches, Prince got some major props last year for taking over for Bill Snyder and getting the Wildcats to a bowl. The highlight of the 2006 campaign was taking down mighty Texas. His pedigree ties him to Virginia, and a little school of which I'm not familiar named Appalachian State. His stock has dropped a bit in the wake of giving up 71 points to the Cornhuskers in Lincoln. Here's more on each candidate:
On Petrino, check out his Wikipedia entry and here's more from the Falcons official site:
His four-year 41-9 record included a 12-1 mark last season and a No. 7 national ranking in the USA Today final Coaches' Poll. The Cardinals ranked fourth in the nation in scoring (37.8 points per game) and second in total yards (484.6 yards per game). "My goal when I arrived at Louisville was to turn the program into a national power," Petrino said. "We just rolled up our sleeves and went to work. We were blessed with some amazing athletes and some great coaches, and we were able to win a lot of games and have a lot of success. I am looking forward to having the same kind of success here with the Falcons. I believe we have the players, coaches, and organization in place to do some amazing things as a team, and I am looking forward to the challenge."
Need more on Ron Prince, check out this endorsement from hockey analyst Gary Thorne [seriously] from the KSU official site:
"Coach Prince has not only produced a winner, but he has done so in a manner that has impressed everyone," said ABC Sports play-by-play announcer Gary Thorne, who broadcast K-State's win over Texas. "Watching him go about his business on and off the field makes its easy to understand why his players believe in him."
.
Thorne didn't mention if Prince is a good skater, tough in a scrum or someone who can control the corners.
So what do you think? The winner will take on #1 seed Kirk Ferentz of Iowa. Vote now, and if you've got strong feelings either way, put it down in the comments.
This one's over with Petrino in a landslide, taking 81% of the vote. Here's the current match-up poll in the Death March Madness tournament:
{democracy}