The second round of the 'Death March Madness' tournament (current bracket HERE – background here). Here's a printable version.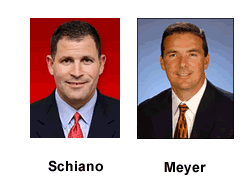 Urban Meyer (Florida) vs. Greg Schiano (Rutgers)
How they got here: Rutgers head coach Greg Schiano received a bye in the first round as the #2 seed in the region while Urban Meyer crushed former M quarterback Jimmy Harbaugh in the first round.
Greg Schiano [bio, Rutgers official site] is another coach that took a program going nowhere into one that is in the national conversation. He swept the coach of the year awards in 2006 and was rumored for quite of few gigs last summer. He's likely top of the list when JoePa retires/dies.
His pedigree goes from Rutgers (where he was a grad assistant), to a DB coach at Penn State, to the NFL with the Chicago Bears, over to the Miami Hurricanes and finally to the head job at Rutgers. He's done well – you'd have to assume he'd leave Rutgers if Martin offered.
Meyer is not exactly a likely candidate [bio from Florida official site]. As coach of the reigning champion Gators who of course destroyed the evil Sweatervested one, he's definitely the rage of the college coaching profession. While at Utah he had a Miles-esque out clause for the unholy Trinity of Midwestern powers (Mich, ND, OSU) but things just didn't work out when the Irish job came up. He made the s-list of Coach Carr due to his lobbying prior to the final vote last season, and more than that, his specifically calling out the Michigan team earned him some raspberries on State Street. This website dubbed him Urban Meyer Wiener, and he'll always have a special place in my heart for his actions. There have been some questionable issues with recruting pop up in the press and his players haven't proven to be saints. This said, he's flat out got it done on the gridiron.
UPDATE: Schiano takes down Urban Meyer. A late push puts him at 52% of the vote and he advances. Here's the latest poll:

{democracy}