Filling in on ESPN's Mike Tirico Show was Eric Kuselias, Michigan law school grad.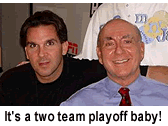 I've listened to the guy before and he does a good job, but today he enlightened the audience. He said that he gets annoyed by everyone saying we need a college football playoff. Why? Not because he's tired of the tired debates. No, the purported MENSA member is bothered by the calls for a playoff because "we already have a playoff. It's with two teams." Seriously. I assumed he was kidding at first but he went on with this for a little bit.
Gee thanks Dr. Kuselias. In the future, I'll try to specify a specific number of teams when arguing for the need of a playoff. This reminds me of one of my econ professors at Michigan insisting that people were wrong to suggest that inflation was a bad thing. No, people should be concerned about "unanticipated inflation." Right.