[Editor's note: Prior to the epic 2008 Wisconsin football game, frequent contributor 'Lew' served up his mouth watering 'Victors' ribs during the pre-game tailgate festivities. They were incredible and probably had something to do with the finest win in RR's tenure.  A re-post for karma:]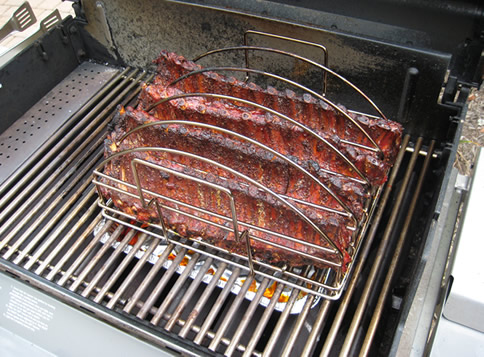 Meat:
I prefer baby backs (and that's what this recipe assumes). I understand spare ribs are a bit easier to cook, but they have a bit too much fat and gristle for my liking.
Rub:
(I change this every time and this is what I happened to use for my most recent batch):
4 tablespoons sweet paprika
2 tablespoons brown sugar (ok to be generous)
1 tablespoon granulated sugar
1 tablespoon New Mexico chili powder
1 tablespoon oregano
1 tablespoon Kosher salt
2 teaspoons fresh ground black pepper
2 teaspoons mustard seed
1 teaspoon celery seed
1 teaspoon garlic powder
I used this quantity for 4 slabs, which was stretching it a tad. Next time, I might go a bit lighter on the paprika and I'm up in the air about the chili powder – it adds a nice bit of earthy flavor, but I might go for more heat (cumin and/or cayenne) or more sweet (brown sugar). It's all personal taste, of course. The key is to get the rub on the ribs at least an hour before you're ready to put them on the grill – the more time the rub has to work its way into the meat before cooking, the more intense the flavor will be.
For the smoke:
I use a gas grill and I add hickory wood chips for smokiness (many larger grocery stores sell wood chips in the same aisle with the charcoal). My grill has a smoker box in it so it's pretty easy, but you can just as easily make a pouch with aluminum foil and place it right under the grates, above the flame – just be sure to poke several holes in the foil pouch so the smoke can escape if you go that route. Either way, I like to soak the chips in water for a good 25 mins or so before putting them on the grill. A couple generous handfuls of chips usually does the trick.
Grill the ribs:
Once the wood chips start smoking, it's time to grill the ribs (there's no need to boil them first – just get 'em on the grill). I like a temp of 275-300 over indirect heat for about 2-3 hours. You go more by look and feel to determine when they're done – and you're looking for the meat to be a nice rosy color on the outside and for it to start shrinking back from the bones. I like to use a rib rack because you don't have to fuss once the ribs are on the grill. If you don't have a rack you'll need to turn them over about every 30 mins. Either way, they go over indirect heat and be sure to place a drip pan (aluminum foil, lasagna-size) under grill grates for easier clean up.
Mop (strictly optional):
I've sometimes used a mop sauce (typically, some mixture of melted butter, apple cider and Jack Daniels) but my personal preference is to let the meat and the rub stand on its own. I really don't think the mop keeps the meat from drying out as some BBQ aficionados profess – there's enough fat in the meat and as long as you cook low and slow, it will render nicely to keep the meat juicy. If you do use a mop sauce, just brush it on liberally every 30 minutes or so.
Tenderize:
Once you take the ribs off the grill, immediately wrap them (individually) in heavy duty aluminum foil and place them in a sealed paper bag. Leave them for an hour. This won't necessarily make them "fall off the bone" but that's not what I'm after – heck, we're meat eaters and these are ribs – but steaming the ribs this way in their own juices really helps tenderize the meat. No joke.
BBQ sauce:
I never, ever apply BBQ sauce to my ribs while they're cooking – doing so changes the flavor of the meat too much for my taste. And, more problematic, all the sugar in the sauce causes it to char up rather quickly on the grill. I like my sauce strictly on the side and I usually just buy a few different brands straight off the shelf at the grocery store and mix and match. My personal preference is a Carolina-style vinegary BBQ sauce. There are a few good sauce recipes in the books mentioned below if you're game for making your own.
Final notes:
This is a good 5 hour process so make sure you're committed – it will show through in your ribs. My recipe and cooking style is based on a combination of recipes/discussion in three essential books for any budding rib master: The Best Recipe – Grilling & Barbecue; Steve Raichlen's Ribs, Ribs, outrageous Ribs; and Weber's Real Grilling. I mention the Weber book less for the ribs and more for grilling in general – it is the bible for anyone who wants to get the most out of their grill. You can pick these books up at your local Borders.