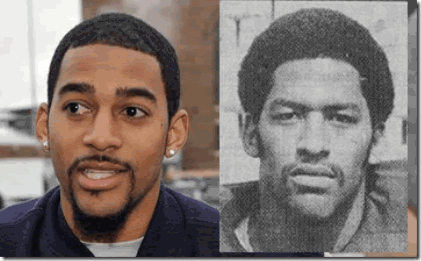 Left, from John T. Greilick, 2011 Detroit News.  Right, Butch Woolfolk as printed in 1981 Detroit News
Through Tate's twitter goodbye we got a little reminder of when Troy Woolfolk's criticized Forcier's workout habits this summer.   You might recall that later on media day Tate said all the right things about Woolfolk's words, and he added that, "seniors are the leaders of this team.  Whatever they say, they can say—it's up to them."
So I thought this was interesting.  My pal Steve Sap sent over a clipping from a September 1981 Detroit News a few weeks back.  In it, T-Woolf's dad Butch Woolfolk (B-Woolf?) spoke to the media about his concerns about the team a few weeks into the season. Preseason #1 Michigan was upset by Wisconsin the opener but then smoked Notre Dame 25-7 in Ann Arbor.  After a disappointing five point win over Navy many were scratching their heads–and the elder Woolfolk made it known he wasn't happy with the flaky start:
"I have a tendency to speak my mind, and maybe I shouldn't say this…but this team is just not mentally ready…It's a mess."
He added, "I don't like this team right now.  I don't like it at all."   While Butch didn't target a particular player, he did call out his fellow senior teammates saying, "The sad part of it is there are a lot of seniors on this team.  And seniors are supposed to lead the way."
So did they get it together?  Well, probably not to Woolfolk's standards.  They dropped close home losses to Iowa and to unranked Ohio State, before rolling UCLA in the Bluebonnet bowl to finish 12th in the land.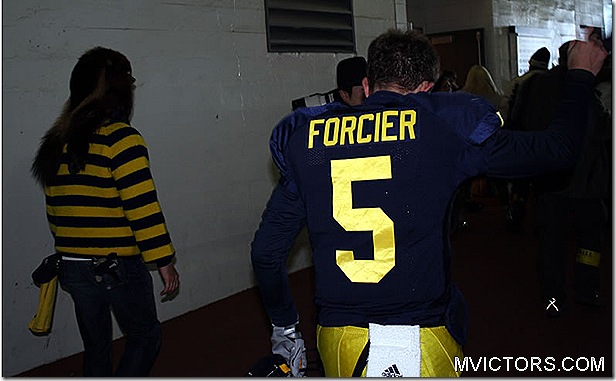 Tate heading triumphantly off the field after the Illinois game alongside your run-of-the-mill part-man, part-Wolverine, part-Bumblebee.
On Tate
Speaking of Tate, he's taken plenty and obviously he's clearly learned a lot from this experience.  I hope things work out.   Word of course is that he struggled in the classroom and that's the reason, he told media before the season, that he was absent from many of those offseason workouts–he was working on the academic side of things.  
One piece of "street" wisdom: make sure you are in damn strong academic standing before you say, "You really have to try to flunk out here," especially with someone like Brandon at the helm.
Via The Wolverine Blog and WolverineHistorian, a YouTube Tatetrospective: