Fielding Yost – U-M Bentley Historical Library
Via a tweet from Michigan associate athletic director Bruce Madej (@bmad), the Sporting News ran down their top coaches of all-time in any sport.   Not represented?  Fielding Yost.  What a crock.
The list was selected by a panel of hall of famers, coaches and experts in various sports.   Several college football coaches, including Bo and Amos Alonzo Stagg, one of Yost's contemporaries, made the cut: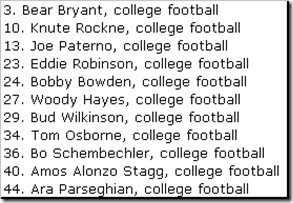 So I hate these off-season lists and the debate that ensues, but this one is at least a little interesting by introducing multiple sports.  Yost should clearly be there over most of these guys (including Bo, sorry!).  No, I'm not give these hall of famers the satisfaction of creating a matrix comparing each of these guys (maybe next June) and proving that Yost belongs here.