Guest Post by Steve "Dr. Sap" Sapardanis
The last time Minnesota won the Little Brown Jug in Minneapolis, Marion Barber SENIOR was the running back for The Gophers.  That was back in 1977, when Michigan was #1 in country and Jim Harbaugh was roaming the sidelines for the Wolverines – as one of the Michigan Coaches' sons!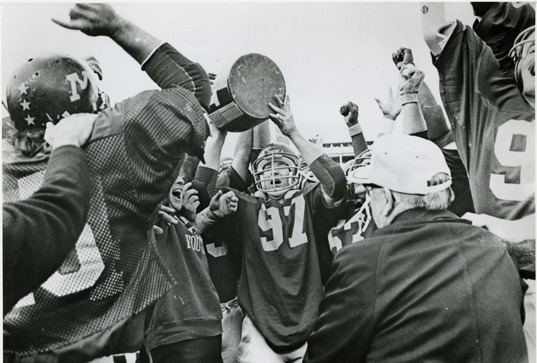 Like Wilton Speight said, maybe the Football Gods WERE smiling down on Michigan Saturday night.  Speaking of #3, here are your LBJ Champions:
OFFENSIVE CHAMPION – Gotta give it to QB Wilton Speight.  His first three completions in his career?  WoW!  He was obviously tight at first but it sounded like the old ball coach settled him down and stuck with him.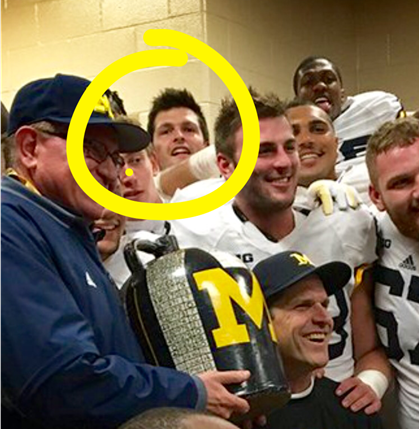 Sure enough, he delivered the goods in a BIG way – especially on that 2-point conversion pass.  He has come a long way since the verbal tongue-lashing he received from Coach Harbaugh that we saw on the HBO Real Sports feature a few months ago.
DEFENSIVE CHAMPION – I haven't seen a game end on a defensive stop since the 2012 OT Game against Northwestern when Kenny Demens made the pivotal play.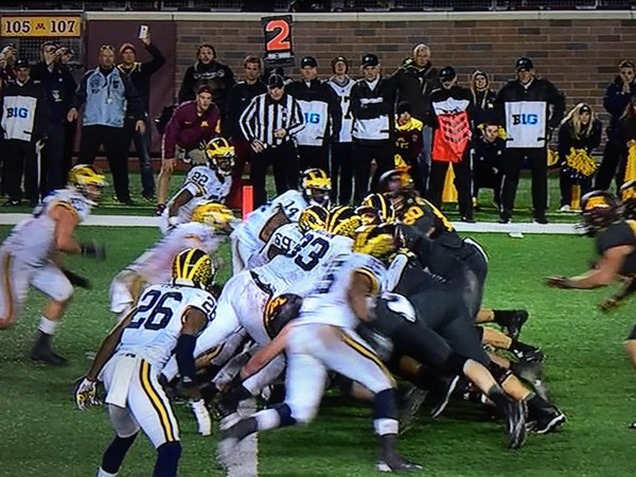 But this one felt a lot like the 1993 Michigan – Penn State Game at Happy Valley.  Michigan stopped JoePa and the Nittany Lions 4 times at the goal line back then.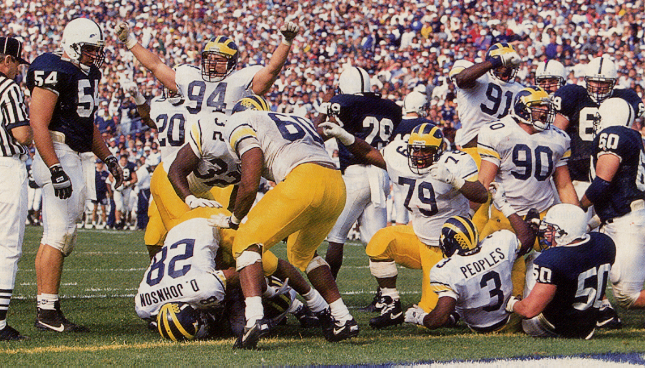 I thought The Gophers would QB Sneak it the play before, but it was obvious the Michigan D was waiting for them on the last play of the game.  Incredible!
SPECIAL TEAMS CHAMPION – I've said it before that Jabrill Peppers makes a HUGE impact returning punts and last night was another example of that.  I'm not sure  I have ever seen a return man field so many punts, not just on the run, but at full speed!  Just wish he hadn't tried to truck the punter on that one kick because he would have had two TD's the Woodson Way – one on Offense and one on Special Teams.  Don't worry – it'll happen.
UNIFORM CHAMPION – Gotta give it to Jabrill for placing his helmet stickers BETWEEN the stripes on the back of his helmet!  In all my years of following Michigan Football, I have NEVER seen a player put his stickers there.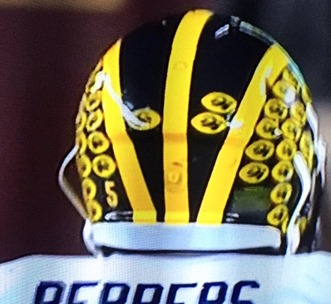 It may have been considered sacred real estate on the helmet in the past, but I guess if anyone is going to do it, I got no problem with #5 putting his helmet stickers there. [Ed. Et tu, Dr.  Sap!  This can't go on! ]
COACHES – From the entire Michigan Coaching Staff keeping this team's collective heads up after the MSU heartbreaker, to Harbaugh coaching up Speight late in this game, to DJ Durkin's Destroyers being ready for The Gophers on the goal line, this entire coaching staff deserves a helmet sticker for last night's win.  The old football saying, that sometimes you lose a game five times, but you gotta find a way to win it the 6th time, never rang more true than it did against Minnesota.  Bob Ufer used to say that football was a "Game of Emotions," and he was right.  Jerry Kill and Minnesota played the "Emotion" card Saturday night, but Michigan pulled trump and played the "Never Say Die" Card.  GO BLUE!  It's nice to have the Jug back in Ann Arbor!
– – – – – – – –
Like Peppers' headgear, Sap's virtual helmet is out of real estate and looking for new property!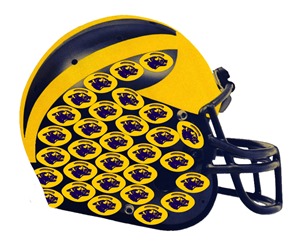 Decals dealt out in previous weeks:
Utah: Jake Butt, Jabrill Peppers, Blake O'Neill, (Uniform: White Road Uniforms), John Kryk
Oregon State:  De'Veon Smith, Chris Wormley, Delano Hill, The Coaching Staff
UNLV:  Ty Issac, Channing Stribling, Blake O'Neill
BYU: Jake Rudock, Defensive Line, Jabrill Peppers, (Uniform: Properly Hiked up White Socks), Amara Darboh
Maryland: Drake Johnson, Desmond Morgan, Kenny Allen, (Uniform: Blue lyrca leggings).
Northwestern: Jehu Chesson, Jourdan Lewis, Offensive Line, (Uniform: Maize and Blue gloves).
Michigan State:  No Champions
Minnesota: Wilton Speight, Michigan defense, Jabrill Peppers, (Uniform: Stickers crossing the stripes! :O)
Follow MVictors on Twitter